Support our Sponsors:
| | |
| --- | --- |
| Sentinel 4: Dark Star - coming 2014 from Origin8 | |
11-08-2012, 02:39 PM
Developer

Join Date: Jun 2009

Location: London, UK

Posts: 789
Sentinel 4: Dark Star - coming 2014 from Origin8
---
Competition time! It's another chance to win a FREE copy of Sentinel 4: Dark Star for iOS at launch!
Today we take a look at our mysterious new Commander unit, and ask you what you think it (or he, or she…) should be called. For an added twist, we're not dealing with a suit of armour built for a human. An almost-forgotten relic of an ancient alien culture, you'll have to do some work to win its assistance, but once it's on your side you'll have a powerful ally against your mutual foes.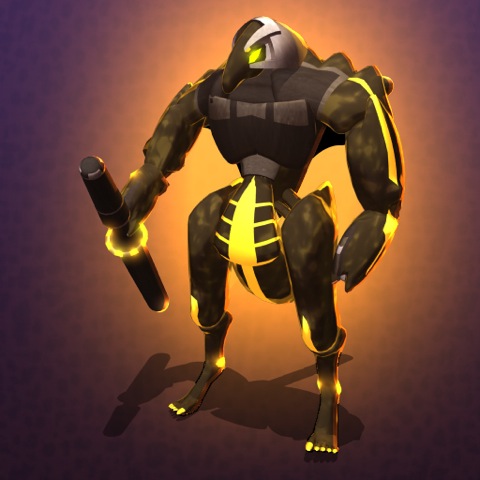 The alien Commander takes the place of Sentinel 3′s Aurora mech and fills a similar role, though it's more defensively focused to complement the returning Artemis armour. Here's a run down of our new friend's abilities to inspire your naming choices:
- If you love using ship weapons this is the Commander for you. The alien retains the Aurora mech's Energy Siphon aura, turning every enemy death within range into delicious ship energy.
- When things get rough, it can trigger temporary defences – a period of invulnerability for itself, or emergency shields on all nearby structures.
- Hold back the hordes with the automatic Slow Shot power, or trigger Plasma Rain to slow everything in a massive radius.
- When idle, the Commander will repair the barrier it's defending, and can spawn its own Repair Drones to patch up nearby towers.
- Surrounded by enemies? Use the vampiric Ingest power to swipe some of their life and heal the Commander.
As before we'll pick our favourite name to use in-game, and the winner will also receive a free copy of Sentinel 4: Dark Star for iOS at launch! Entering is simple, any of the following methods count:
- Reply to this thread right here. Easy!
- Tweet your entry
@Origin8
with the hashtag #Sentinel4
- Comment on
this post on our official blog
.
- Comment on
this post on Facebook
Make sure we'll be able to contact you in the event that you win!
Entries close midnight GMT on Friday 21st February 2014. Good luck!
GAME INFO
CURRENT ETA: WHEN IT'S DONE

Sentinel 4: Dark Star
is now officially in development! I'll be keeping this thread up to date with the latest from the crew, and we'll be relying on your comments and feedback to help us make the best Sentinel game yet.
For starters, check out our
teaser blog post
. That should be enough to get some speculation going
FAQ
(ongoing)
Sentinel what?
The Sentinel games are a hugely successful sci-fi tower defence series.
Sentinel: Mars Defense
started it all back in February 2009, and was followed by
Sentinel 2: Earth Defense
and
Sentinel 3: Homeworld
. Sentinel games can now be found on iOS, Android, PC and Mac.
Sentinel when?
Our current estimate is simply
when it's done
, and we'll keep you updated as we get closer to completion.
Sentinel on what?
Device requirements aren't yet set in stone, but we're currently targeting the iPhone 3GS up and iOS 4.3 up. Some fancier graphical effects may be reserved for higher end devices. For those of you interested in other platforms, an Android port is definitely on the cards; PC, Mac and others are under consideration.
UPDATES
Teaser blog post/announcement
Dev Blog: Groundwork
Dev Blog: Aliens Fight Back!
Dev Blog: Stronghold
Dev Blog: Endlessness
Dev Blog: The Power of Towers
Competition: Name an Alien
Dev Blog: Path Defense
Dev Blog: Sight Beyond Sight
Competition: Name the New Commander
SUGGESTION THREADS
Towers
---
Last edited by Repair Drone; 02-14-2014 at

09:46 AM

..
Posting Rules

You may not post new threads

You may not post replies

You may not post attachments

You may not edit your posts

---

HTML code is Off

---