Support our Sponsors:
| | |
| --- | --- |
| iPhone: Stair Dismount - The Official thread of Love and Fractures | |
11-25-2009, 02:03 AM
Senior Member

Join Date: Oct 2008

Posts: 1,039
Stair Dismount - The Official thread of Love and Fractures (Lite out now!)
---
Youtube link
|
Pop Up
EDIT - Jun 8th 2011
New trailer added! Version 2.0.1 with motion levels promoted with the best of our audiovisual marketing talent. Also as a point of curiosity for the members of this forum, Android support is soon coming.
----
EDIT - Nov 25th - Started official thread
Figured it'd be a good idea for Stair Dismount to have a home where we can keep everyone updated of what we are planning, what the community is requesting, and how we are responding to the requests
HIGH SCORE THREAD HERE!
Mr. Dismount's Facebook profile
Edit - Dec 8th
Stair Dismount is now $0.99
Our game has been recognized by Apple under the "What's Hot" section of iPhone games, and to encourage sales we are lowering the price. Stair Dismount is now undoubtably the best ragdoll bang for the buck, and even more so once version 1.2.0 has been approved.
EDIT - Dec 14th -
Update 1.2.0 is approved!
Features of the update:
- OpenFeint online leaderboards
- Three new levels (Mt. Dismount, The Ledge, Loose Bindings)
- In-game access to iPod music library
- In-game help (can be disabled in the options screen)
- The game remembers the previously selected face and level
- Quick Start button in the main menu, jumps directly into the last played level with the previous face
- Camera flash and shutter sound when taking a Dismount photo
- Many more Facebook photo taglines
- Option to reset local high scores (note: old scores will not be uploaded to OpenFeint)
- A new panoramic camera used to display the dismount locations in all their glory. Used in the main menu and in level start.
- Minor control tweaks (improved pinch etc.)
- Minor visual polish here and there (credits screen, dust particles)
EDIT - Feb 6th -
Lite available, update 1.2.5 waiting approval
Features:
- Player's own face can now be selected in the Facebook friends list
- Clear Face -button added to face selection screen
- Online high scores shown in the level selection screen on the bottom right corner of each level button
- Online and local high scores shown in the intro screen of each level
- One extra level, "Pyramid Scheme"
- Mr. Dismount's Facebook page and Secret Exit's Twitter page links added to About-screen
- Frame rate issue fixed on some 1st gen devices (caused by audio)
- New Secret Exit splash screen (yeay!)
- New game promotion functionality, accessed from the "Secret Exit" button in the main menu
- OpenFeint updated to latest version
----
Feature requests:
REQUEST: ALLOW PLAYER TO CHANGE MR. DISMOUNT'S STARTING POSITION
A good idea, but one we prefer to use in scenes that are designed for it. (i.e. not implemented for now)
REQUEST: MULTIPLAYER
Unlikely to be added to Stair Dismount.
REQUEST: LEVEL EDITOR
In the distant future, a PC level editor may be released, but having a 3D level editor inside an iPhone game would be more work to implement than the game itself.
Screenshots of the next update: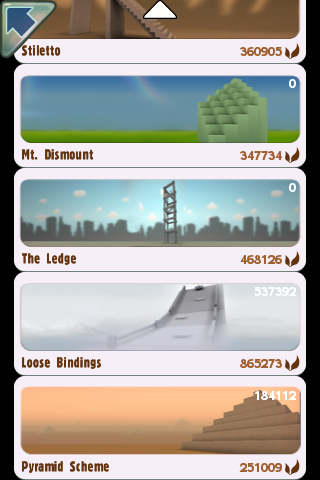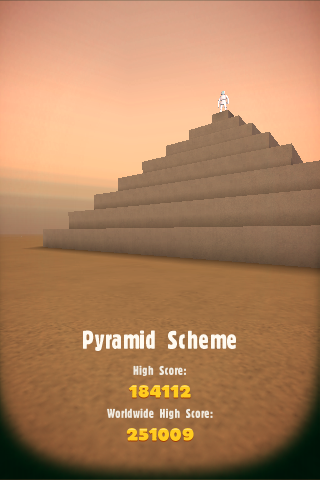 ---
Last edited by Frand; 06-08-2011 at

08:06 AM

.. Reason: New trailer added. References to Lite version removed.
Posting Rules

You may not post new threads

You may not post replies

You may not post attachments

You may not edit your posts

---

HTML code is Off

---