Art Log Plunder Kings Infested Forest [Level 1 ]:
So it's been awhile since we did one of these but in the spirit of giving we have pretty level one art to show. The first level is forest based. It is inhabited by crazed insects.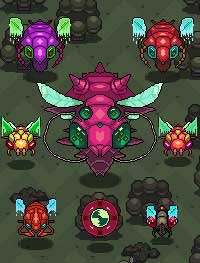 The main enemies consist of bees that serve as the standard enemies. There are several fly enemies, the red and purple ones will pose as a main threat throughout the level usually appearing in groups of two or three. The small black flies come from both sides of the player usually in groups of four. They are more sneaky when the area gets crowded.
Oh and remember the menus?
Check it out they're getting fancy.