[Free App] Infinite Music
---
I'm the french (sorry about my english) developer of the Infinite Music application, and I would like to know what you think about these original features for a music player.
Infinite Music uses audio analysis technologies to find the tempo, rhythm and split each song into many small audio sequences that are dynamically linked together to create new songs that can play endlessly.
- You can play your favorite songs like a never ending remix that will always be different.
- You can create automatic mashups from a playlist, album... Infinite Music can jump from one song to another when they are acoustically similar.
- You can remix your music yourself, by rating audio transitions, those you like, and those you want to avoid.
- You can manage a playlist for each activity. Using accelerometer data analysis, Infinite Music can detect if you are in your car, on a bike, resting, running or walking, and can automatically play songs according to your activities.
- You can also go running, and Infinite Music will play the songs that best match your running pace. If you are running at 120 steps / minute, Infinite Music will search your library for 120 BPM songs. If you don't like the song, you can use your legs as a remote... accelerate to 122 steps/ minute, and you'll get a new song matching your new rhythm !
- If you have Philips Hue lights, you can enjoy a dynamic light show, based on the playing music spectrum analysis.
- Of course you can also play your music in a normal way... Infinite Music supports portrait and landscape modes (unlike Apple Music app), supports multi-tasking, background audio, 3d-touch, playing mp3 email attachments, iCloud drive or Dropbox audio files...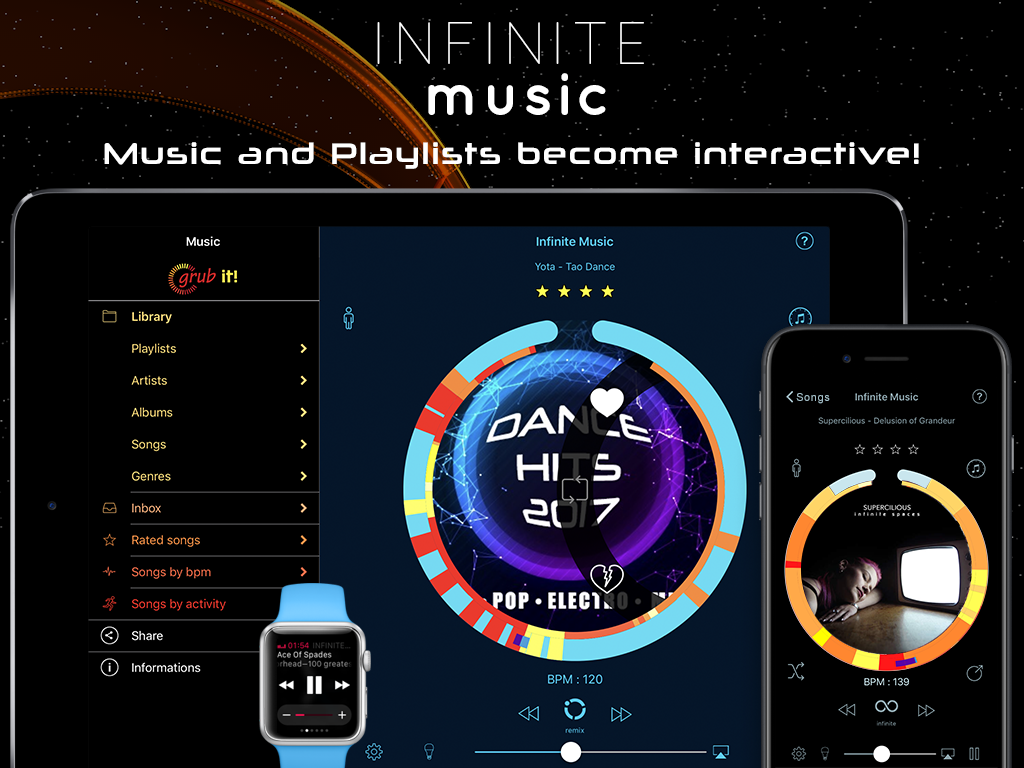 Unfortunately, Infinite Music is not yet compatible with streaming sites for legal reasons (Youtube, Spotify, Deezer...). I have a version of Infinite Music that technically works with some streaming sites, but I can't release it until legal agreements have been signed...
Try it:
https://itunes.apple.com/us/app/infinite-music-rediscover/id1150329572?mt=8
Please tell me what you think.
stipus