The Sandbox - Unique pixelart particle physics world creation game
---
Hi everyone
We would like to introduce "The SandBox", the newest co-production from the studios: Pixowl Games & Bulkypix
Here is the official trailer:
More videos to check on
http://www.youtube.com/user/TheSandboxGame
You can see the best worlds created by players and submitted to us at:
http://www.facebook.com/media/set/?s...7758125&type=1
The expected release Date is Spring 2012
★ PRESS TALKING ABOUT THE GAME ★
TouchArcade
: "The SandBox is a charming little pixellated 2D world-creation game -- and, by world, I mean the space inside of a literal sandbox."
Read more:
http://toucharcade.com/2012/03/06/gd...from-bulkypix/
Gamezebo
: "The Sandbox really wants to live up to it's name"
Read more:
http://www.gamezebo.com/games/sandbox/preview
148apps.com
: "Pixowl is working on the next big thing since... well, I'll just come out and say it... since Minecraft. There, I said it."
Read more:
http://www.148apps.com/news/enter-sa...#ixzz1mLQ0h4Y1
SlideToPlay
: "The Sandbox is one of the most unique iOS titles of 2012 in terms of looks (sweet pixel art) and gameplay (novel blend of puzzle and community)"
Read more:
http://www.slidetoplay.com/story/the...nds-on-preview
TouchGen
: "First up, and the most impressive on show, was The Sandbox – think Minecraft in 2D, that's heavy on simulation."
Read more:
http://www.touchgen.net/gdc-bulkypix...w-game-line-up
★ FOLLOW US ★
Website:
http://www.thesandboxgame.com
Twitter:
http://twitter.com/TheSandBoxGame
-
http://twitter.com/pixowl
Facebook:
http://facebook.com/TheSandboxGame
Thx for your interest & posting here impressions / feedback
Pixowl Team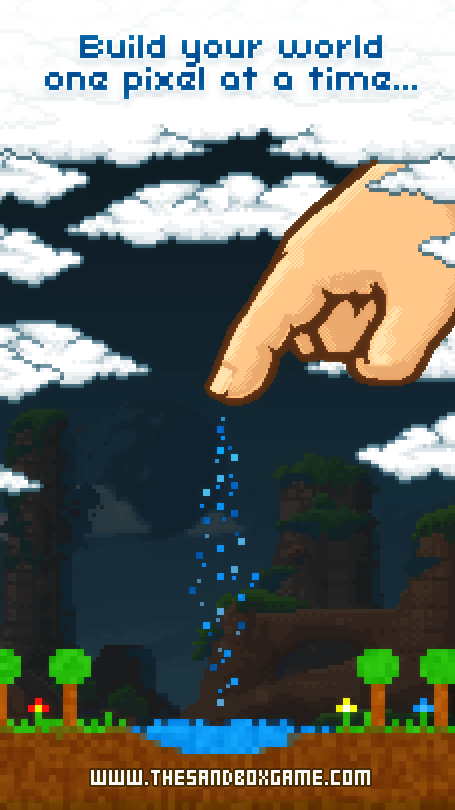 ---
Last edited by PixOwl; 05-11-2012 at

01:15 AM

. Reason: Updated with latest trailers, screenshots etc