Zombie Bumper Cars - new from Prison Escape and Cat Attack developers
---

From the developers who brought you Prison Escape, the multi-million downloaded iPhone hit, and Cat Attack, the number one free arcade game, Mogworks and OneButtonJoypad are delighted to announce they have joined forces to bring you Zombie Bumper Cars! The new Head-Splatting Zombie-Dodging Dodgem-bumping arcade game soon be available for iPhone and iPad.
The goal: to survive as long as you can in one of eight themed Bumper Car arenas, against hoards of Zombie driven bumper cars. Zombie Bumper Cars follows the adventures of Tim- a rebellious boy who heads to the local fairground after dark only to find himself being chased by ghouls of the night as they force him to compete to the end in one of several bumper car arenas. Tim has to fend for himself as he rides the bumper cars, bumping the heads off zombie enemies as they try and decapitate him in their bumper cars. But he as to watch out, for even though he can boost his health by splatting his enemies heads with his bumper car, his health will decrease the more he his hit, until it's his head that ends up splatted instead. Can you help Tim survive by fighting his way your way through four themed arenas split across 8 zombie infested levels, with only his bumper car to save him?
Features:
• 8 levels and 50 waves, across 4 themed arenas.
• 3d Racing gameplay.
• Knock the heads of the enemy zombies with your bumper car to win.
• Splat the knocked-off heads with your car for a health boost.
• Openfeint integration: achievements and global high scores.
• Facebook and Twitter integration- share your scores online with friends.
• Traps, such as crushers and pinball saucers.
• Future updates and extra game content planned.
Soon to be released on iPhone and iPad.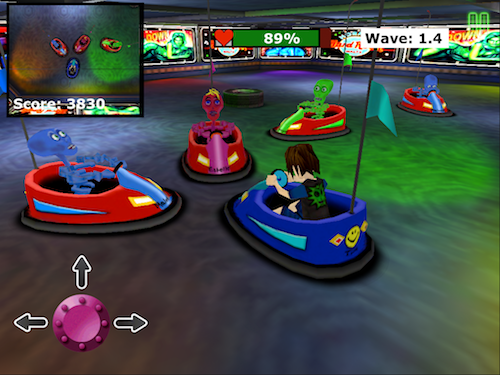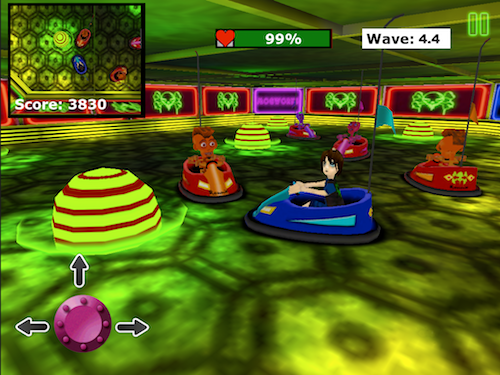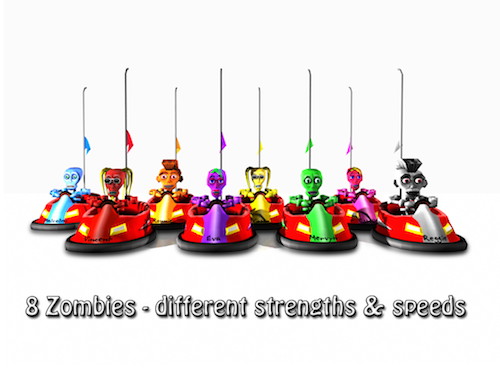 ---
Last edited by OneButtonJoypad; 09-30-2011 at

02:09 PM

.