Star Marine: Infinite Ammo - [Due: Thur 12 Jan 2012!]
---
Update #7 - Gameplay Footage!
Star Marine: Infinite Ammo will be available this Thursday January 12th, 2012! Tie you over, here is some Sneak Peak gameplay footage featuring the tram level and Boss!
Youtube link
|
Pop Up
Update #6 - Weapons!
Weapons Arsenal Detail:
Assault Rifle:
Arc's Ol' Faithful! The Assault rifle is standard issue rapid-fire fully automatic that releases a fury of high velocity rounds. The rifle does not sustain damage, and it boasts an unlimited supply of ammunition. Like a trusted friend, it is always there to back you up!
The Reaper:
The reaper, aka 'Johnny Quick Death' is a plasma propelled rocket launcher with optional upgradable seeking ammunitions. Once upgraded, the reaper can be used to deploy multiple simultaneous rockets for maximum devastation. Pull the trigger and forget about it!
The Crippler:
Apply named for its ability to quickly debilitate an onslaught of enemies, the Crippler is a devastating spread-fire shotgun that packs a real punch. On the move or in a standoff against multiple attackers, the Crippler can dispatch enemies quickly and efficiently.
The Decimator HD:
HD is for Heavy Damage. The decimator is a very tactile, high explosive grenade launcher that can be of real service when you're in a tight spot, under enemy fire, or up against heavily armored enemies. Short ranged, but extremely powerful, the Decimator delivers the highest amount of impact damage within Arc's weapons arsenal.
The XF Combustor:
An intense heat flamethrower, the XF Combustor boasts considerable stopping power against organic enemies and offers supreme protection from airborne attackers! With upgradable range and incineration power, the XF levels the playing field against the most menacing of adversaries!
Storm Cannon:
The weapon of the times! The Storm Cannon is an advanced lightening chain-gun capable of simultaneously targeting several enemies with a single pull of the trigger. Complete with an automatic target lock, the Storm Cannon identifies and electrifies all enemies within range of conduction!
Ion Torch:
Producing a focused blast of charged ION's, the Ion Torch halts the hardest of enemies and rapidly cuts them down to size. Although the torch is limited in range, it is equally effective on both Organic, Robotic, and Hybrid enemy types
Update #5
We are happy to present the Star Marine: Infinite Ammo Official Trailer. Check out the
GlitchSoft
webpage for even more detail!
Update #4
Star Marine is definitely on track for a January release. Here are some screen grabs we pulled: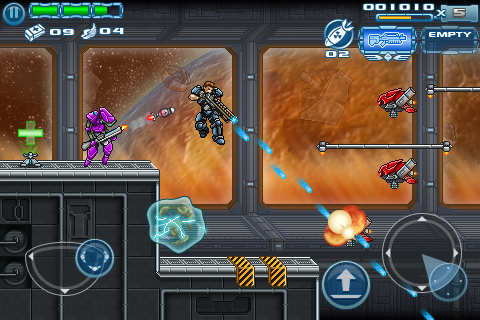 The game has a unique mechanic that allows you to slowly descend from high jumps or ledges in the low gravity environment. Perfect for raining bullets on a wave of enemies of enemies while you stay out of harms way!
Introducing 'The Crippler', Star Marine's tricked out version of the infamous spread-shot!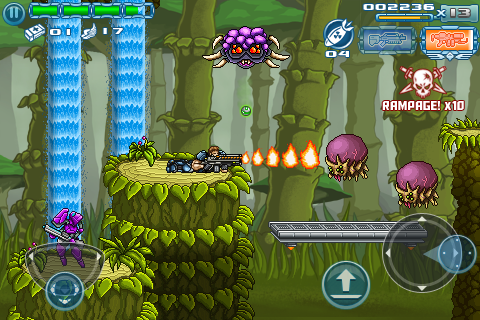 Weapon types are each tuned to inflict maximum damage on select enemy types. The 'XF Combustor' makes quick work of roasting organic enemy types!
Update #3 -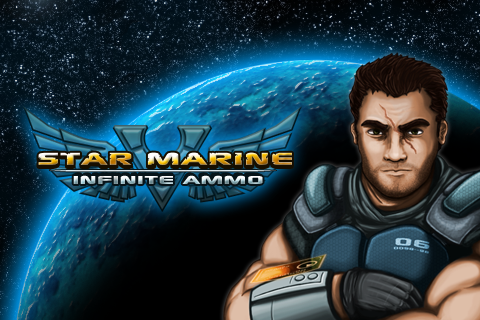 Hello Touch Arcaders! The final polish is being applied to Star Marine: Infinite Ammo and we are excited to share some details with everyone about the new game.
About the Game
Star Marine is an action packed, Run n' Gun, side-scroller that features comparable gameplay to popular titles like Contra, Rapid Reload, and Metal Slug! the game is completely original and designed from the ground up with the idea of bringing console grade gameplay to your iOS devices!
The Main character
Players control Arc, a battle hardened Star Marine. After having seen more than his share of fighting, Arc now avoids conflict by quietly drifting through deep space. If provoked, Arc is an unstoppable fighting force. He wields heavy artillery with ease and can quickly negotiate and scale any terrain.

Controls
Star Marine features a familiar dual stick control schematic with a single button to activate Arc's propulsion pack. The controls are extremely responsive and allow Arc to run, dash, jump, hover, hang, climb, and prone while delivering a continuous rain of bullets upon his enemies!
The team is excited to bring this adrenaline packed release to the iTunes APP Store, and you – the real iOS gaming fans! Please stay tuned for more updates in the near term and please leave us your feedback and thoughts!
Update #2
Check out a few of the in game Bosses!
Update #1
GlitchSoft is happy to announce that Star Marine: Infinite Ammo will be launching this January for iPhone, iPod, and iPad. Check back often for regular updates and share your thoughts as we get closer to release in January!
Star Marine: Infinite Ammo is an adrenaline packed action title with intensity and speed that escalates with each defeated enemy. Expect a lions share of epic arcade action, rapid gameplay, exciting sound effects, stunning graphics, and challenging bosses! Lots of bosses!
---
Last edited by Glitchsoft; 01-11-2012 at

10:26 PM

. Reason: new trailer