[In-Depth Review] Stick Wars vs. Defend Your Castle
---
Intro: With two games that are very similar and both getting updates I thought a comparison was needed. Since it was so long I split it into two posts Stick Wars in the first Defend Your Castle in the Second. I know there was a thread already about comparison, but people just said Stick Wars is Awesome, or vice versa, so I decided to start it over.
Also I wanted to start my own review site, but didn't know if I wanted to put in time i didn't know how many people would read. Then I thought of contributing to an established site like Touch Arcade or Fingergaming, but don't even know how ask them to do that. So what do you think?
I'll begin with Stick Wars ($0.99)
:
Stick Wars
Stick Wars has gone a long way since being Siege where you had to flick red monsters. Now it's Stick Wars where you have to flick away on coming stick people to try to prevent them from destroying your castle.
Basic game play: Stick Wars is a perfect pick up and play game where the stick figures are coming and all you have to do is pick them up, and toss them in the air high enough, and let gravity do the rest as they're killed when they come back down to the ground. As you progress in the levels more and more varied stick people come, and being able to flick multiple enemies with both thumbs make it a lot easier to play. Stick Wars is very responsive to multiple inputs and drags the stick people wherever you would like. You can also grab them and flick them hard at the ground to crush them if you're so inclined. With more and more on coming enemies you need more help than just your fingers so comes in the add-ons that you can purchase with points made from killing the stick figures.
The first purchase is the prison where you convert enemy stick figures to use on your side. The next 4 purchases are the places to train your captured enemies. There is the bomb pit, archery, stone masons, and wizards. Once you have enough to buy one of these a tent shows up inside your castle and you double tap it to train one of your prisoners as an archer, repair man, or wizard. You can also send them out as suicide bombers when your overloaded with enemies at the castle. The Wizards are the only one of your defenders that you actually control, the others work on their own account. With wizards you press the corresponding button at the bottom of the screen and then on the playfield to cast the spell. The prison can be upgraded to convert more than one at the same time. Also you can have an unlimited number of untrained prisoners. The prison also shows a status bar as the progress of the conversion. Your castle has a health meter that deteriorates as enemies beat on it with whatever weapons they have. At the end of each level you can repair your castle or fortify to make it stronger with the points gained from killing the attackers. This game play is the basic defend your castle game play seen in the flash version:
Flash Defend Your Castle
Visuals: The game has basic visuals with stick figures with different weapons, and a wall that represents your castle. There is a grass field they run across to get to your castle, and with the 1.2 update there is now a sun that only sits there, and switching of the weather, as there are sometimes snow days. You can see the screen shot to show the basic gameplay picture. The animations though are much better than the basic picture beginning with the new weapons each of the stick figures now brings, another new addition for 1.2. When each stick figure comes back to the ground, a splash of blood explodes out from each one. The wall of your castle shows deterioration as its being destroyed as well.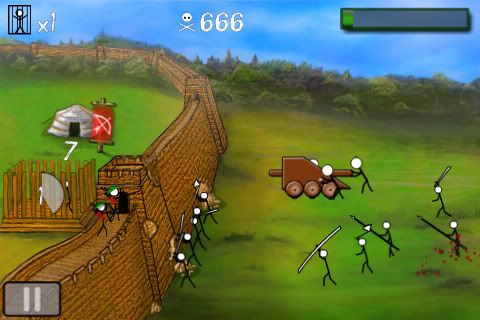 Once you have archers you see them on your castle sending out arrows that go into the stick figures with blood squirting out. Once you have stone masons/repairmen they sit on the outside of your wall with a window cleaner type thing, but you can't see them working. Once the wizards come you see the spells by a splash of light on screen, with varying bursts of colors. The scale of Stick Wars has a wide range for stick figures that aren't that big, so they have to be tossed further, and even when there's a lot of them they all have differing spaces and don't arrive in a bunch.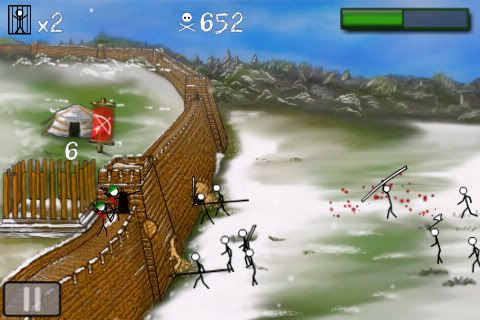 Sounds: For sounds this was a major problem before 1.2. There was no background music, of course you can listen to your own, but a game should have its own music and especially this one. Without music there are constant screams of each killing and a yeesss from a converted prisoner. This gets very tired without anything else, but now the additions of background music dulls those sounds, and is a very good tune to go with the atmosphere of the game.
Menu System: The menu system is pretty boring with nothing major just lists, see the two pictures below. At the end of each level when you're given your stats there are fireworks in the background and the add-on options have basic list view.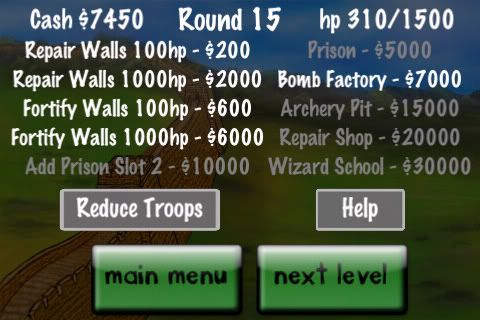 Difficulty: Stick Wars in the options has three modes of difficulty, and I've played normal and hard. Normal starts out slow and starts to ramp up pretty quickly, until you get the archers, and then the archers take care of most of the attackers and you just sit back and watch. Hard mode is where it's quite difficult being able to even afford archers, and they do less for you. The scale requires a strong toss to kill the attackers which is a good thing. Also in the options you can increase the amount of blood from the attackers, and it is set at low to begin which I thought was plenty, but I've been playing on medium lately so there's blood everywhere.
The save system works great saving exactly where you left off, and it saves at the complete of each level.
Overall: Stick wars has a fun engaging gameplay that is easy to pick up and play anytime, even for short bursts, since it saves wherever you are. Stick Wars is getting constantly better, with relatively quick updates, and it currently the #4 best selling app so should continue to get those updates, and improve on an already great game.

Score: 4/5
Stick Wars is a great game that I have fun with each time I play it, and the updates adding background music and more varying attackers has helped a lot, but it's not very polished, as just a regular 2D scene with nothing really popping out. The gameplay is great which makes you want to keep playing, but it looks archaic in comparison to Defend your Castle. It's very similar to Defend Your Castle, and with a few tweaks to the overall polish, and it would top Defend Your Castle. As it stands now, I would give the slight edge to defend Your Castle, but you win either way.
---
Last edited by mactds; 05-13-2009 at

07:06 PM

.