[Giveaway] Photo Spot Celebrates 100,000 Downloads
---
Nexx Studio is proud to announce that Photo Spot, our very own spot the difference game app have exceeded the 100,000 downloads milestone after just 14 weeks on the App Store.
Photo Spot have enjoyed a fair share of publicity from notable blogs such as the MacWorld, iPod Touch Fans, Apple Tell, AppCraver, as well as getting featured on the U.S. and Canadian's App Store Staff Favorite section this past April. It has also accomplished the #1 most popular paid app position in several countries and top 10 in most of it.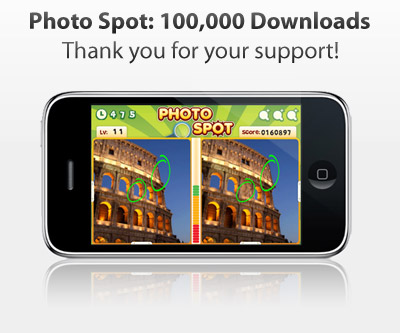 Our staff will continue to deliver additional game images and improvement to Photo Spot over the period of time. Currently, we're working on some other interesting game title that will be made available to the App Store soon.
We really appreciate those who have offered their support to our game and provided some feedback that helped us improve. Thank you.
Here are some free Photo Spot promo codes to celebrate the event. Limited to one per reader. (leave some for others)
N6L4Y6FKRAL9
JLREYAXL9WL4
RKET4L7TMR3F
MJTRHEXTK76J
THNTMELMPFFA
R3TJER6NJ79K
Y4MY6YXTWHPM