Buster's Catch Coming Soon! - 306 Designs
---
Busterís Catch Preview #1 Ė Description and Gameplay
website
Busterís Catch, the new release from 306 Designs, is heading into its final stages of development. Time to release some information!
Busterís Catch sees the return of Buster, our loveable bird character introduced in Busterís Flight from 306 Designs. Also previewed in Busterís Flight (if you made it that far!) was Bandit, evil brother of Buster. The two birds have been enemies since childhood with Buster always doing the right thing and Bandit taking the evil approach.
Busterís Catch finds Bandit on a mission to cause havoc and destroy all of the bird eggs across the land! It is Buster who steps in to try and save the day, strapping on his basket and making sure that Bandit doesnít have the last laugh.
Featuring an unlimited number of increasingly difficult levels, Busterís Catch is much more than a simple egg-catch game. In addition to regular game play, which will be previewed in depth below, the game also contains multiple bonus games, a unique ranking system, and a marketplace that allows you to unlock new costumes, settings, multipliers, and other things for Buster to help you on your journey!
Think you are completely alone on your journey in Busterís Catch? Not a chance! The game features a global leaderboard that allows you to see how the best players from around the world are doing in the game. As well, there is a global egg counter in the game that keeps track of how many total eggs Buster has caught around the world!
Stay tuned for in-depth updates to all of the features listed above! Busterís Catch is scheduled for release in March 2012.
Here are some images showing some of the game play features for Busterís Catch: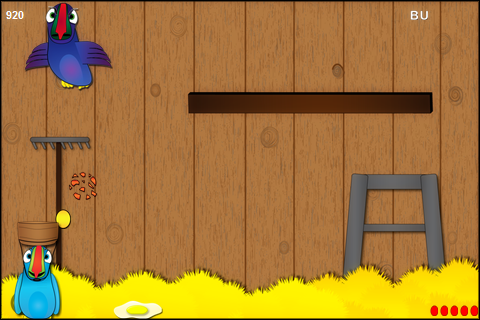 Beware! Bandit will try to drop decoy eggs that you must never catch in your basket. Be sure to smash them with your finger or let them drop to the ground beside you!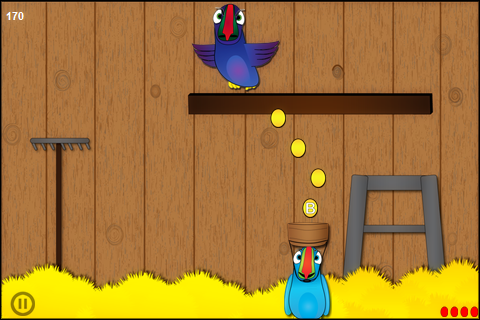 Some eggs that Bandit drops have special letters on them.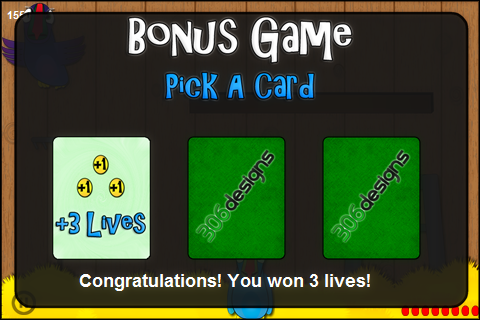 Spell out the word ďBusterĒ with these special eggs to earn the right to play special bonus games.and earn more points, lives, and perks for Buster.
Stay calm and cool as the difficulty goes up and you deal with more challenges!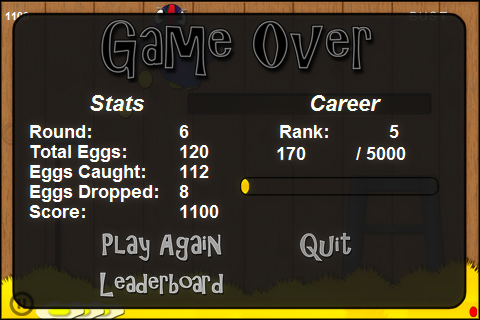 If it does become game over for you, check out how your game stats went.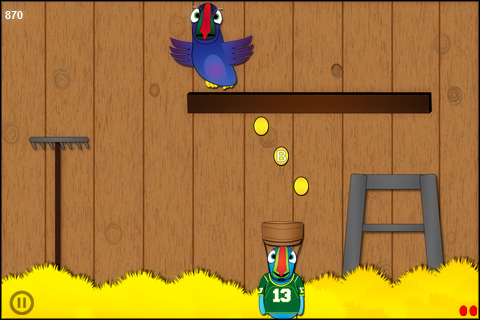 Unlock new costumes for Buster and brag to your friends about your current setup.
[Developers note: Feedback about the game would be great. I want to take input and ideas from friends, fans, and developers and make the Busterís Catch the best game it can be.]