The Creeps! 1.2.1 out now
---
*Update* Version 1.2.2 is now out which adds secret Pocket God characters as enemies in the game! Can you figure out how to unlock it??
*Original 1.2.0 post follows:*
Hi everyone, I'm the developer of "The Creeps!", one of the App Store's original Tower Defense games. I just wanted everyone to know that the latest update (A huge content update) has just been approved by Apple and is now available on the App Store!
Thanks to everyone for being patient! I hope you like all the new stuff
I always appreciate your honest reviews on iTunes, so please write one or update your old one to the new version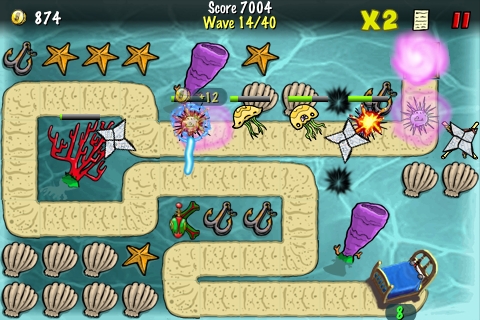 Here are a couple videos of some of the new stuff:
Click Here
Here's a full list of all the changes:
NEW in 1.2.0:
============
* New location added: "Under the Ocean"
* Added 5 new ocean themed Creeps (and Boss versions of all 5)
* Added 1 new ocean themed Mega Boss
* Added 4 new "Survival" maps
* Added 4 new "Endurance" maps
* Added a new game type: "Door Buster" (Race against the clock, objective is to destroy the door!)
* Added 6 new "Door Buster" maps
* Added New Tower: "Paper Shuriken" - it moves in straight line until it hits a terrain obstacle, piercing through creeps along the way doing high damage
* Added New Tower: "Piggy Bank" (it doesn't attack, it collects coins with interest. Break open to get the cash, but once broken it cannot be used again)
* Added difficulty levels (Easy, Normal, Hard)
* Added Fast Forward (double speed)
* Added "Badges" for earning bonuses. Can you get a gold star (perfect) on every level?
* Major optimizations: CPU/Battery usage is now approximately 50% of what it was in version 1.1.1
* Added help screens for towers, creeps, bosses, mega bosses, game modes and badges
* Semi-randomized waves of creeps for increased variety
* Re-vamped high scores to show badges, filter maps by game type
* Level select: Added reflections
* Level select: Now shows your #1 high score with earned badges for the selected level
* Level select: Levels now in separate lists by game type
* Level select: Higher resolution image for locked levels
* Added "coins earned" indicator whenever destroying something (pop up of +12 coins etc)
* Automatically imports scores and unlocked levels when upgrading from ANY previous version
* Added level restart option from in-game menu
* Almost all endurance levels now have all normal weapons available (by popular request!)
* Endurance levels now start with the extra coins it would have taken to purchase the pre-placed towers from the level's Survival counterpart
* Increased difficulty ramping in Endurance maps (again!)
* Bed "Health" is now displayed as a number
* All creeps now have a boss version (some of the original creeps didn't before)
* Fixed multiple bugs including that annoying scoreboard bug that would mess up your name.
* New rule: Only one super tower of a kind can be built. If you have one built already, it won't show up in the build menu. If you sell it, it will become available in the build menu again
---
Last edited by RegularStormy; 06-26-2009 at

07:36 PM

. Reason: Added 1.2.2 info