Wave Rave, an Arcade Puzzler With Amplitude! for iOS
---
Smappsoft is proud to release its latest game, Wave Rave. This new game presents a colorful new style of puzzle gaming with a retro arcade flavor. It is available now for $1.99 in the
iTunes App Store
as a universal app.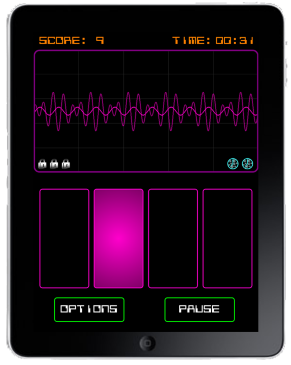 Wave Rave is a unique puzzle game inspired by the work of mathematician/physicist Joseph Fourier. With a nod towards old-school arcade favorites, Wave Rave presents players with a series of increasingly complex waveform puzzles. To solve each puzzle, players must match target waveforms by reconstructing them from their component waves before time runs out. Featuring a wide variety of increasingly challenging puzzles and 4 difficulty levels, Wave Rave provides a fun and exciting visual and mental challenge. Wave Rave is fast-paced and frantic; players must think fast, keep an eye on the clock, and strategically use power-ups to keep them in the game.
"We all fondly remember those old style, retro arcade games," Said Mark Rubin, Chief Engineer at Smappsoft. "Wave Rave has the look and sound of those early games and adds modern, challenging, puzzle based game play that makes it fresh and exciting."
Game Center leader board integration adds a social aspect, enabling players to compete against their friends. Wave Rave's pulsating soundtrack and colorful backdrop leave players with that 'just one more game' feeling, as they 'Wave Rave' goodbye to their productivity!
Wave Rave: An Arcade Puzzler With Amplitude!
Features:
-Old-school arcade style graphics
-4 Starting Difficulty levels from Easy to Insane
-In Game Tutorial
-Fast and Frantic gameplay
-Pulsating electronic soundtrack and sci-fi sound fx
-Over 550 unique puzzles, randomly distributed for high replayability
-Bonus information about the Fourier Series
-Game Center leaderboards
There is also a video demo available on
YouTube
.