Bonk-A-Donk - (by rejected games)
---
Hey there, I actively searched for a partner on this project in late february 2012.
Well on march 7th I got contacted by Lukas who seemed interest in the entire premise/idea of the game and so after long email discussions we started the development of the project.
We set up a
development blog
about the game's progress over here:
http://acumen-design.de/games/
We wanted to show the development process as indepth as possible and talk about pretty much any aspect we encounter on our journey for others to learn from, laugh about or simply enjoy following the process of creation
Latest Screenshot
: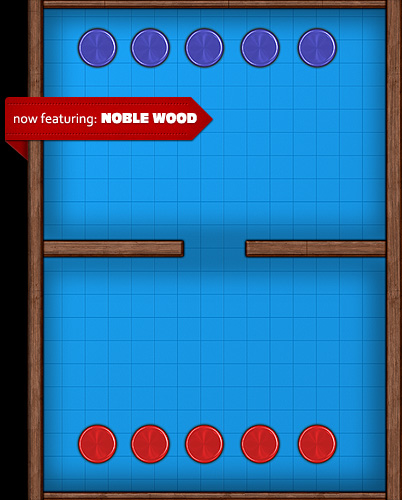 Latest Development Build
:
Betatesting - yum yum ?
:
Our philosophy is to get this game out ot as many people as possible and therefore gather as much information and feedback as possible from you guys. So if you would like to get in contact with us about possible betatesting this game, drop us a line over at:
fabian@engaginggames.com
As soon as we have the game mechanics working, we would like to get an initial round of feedback and take the development from there. So this is really a chance for anyone interested in our game to be involved in making it the most entertaining and polished as we can
Gameplay
:
"Pucking" was inspired by an old french game called "Passe Trappe". It basically is a variant of air hockey in it's core. It's a 2 player game (1 Human vs 1 Human on the same device / 1 Human vs AI) where each player has 5 pucks that need to be pushed into the other half of the playing field. When all 5 pucks are in the other half of the field, the game is over. Variants of this gamemode can be created with adding 1-2 extra items, like special pucks, obstacles, changing the amount of tunnels on a playing field.
Features
:
- 3 Game modes
- 1 Player vs. AI
- 2 Player – Local multiplayer
- 4 different playfield skins
- Gamecenter achievements and leaderboards
We would love to answer any question that you guys may have, how we did/do/plan things, what errors we made, hurdles we faced. Pretty much anything. We're trying to be as transparent as possible
Our dev cycle is set for 4 months, which seems quite reasonable for a project of that small scale.
Every other kind of feedback is appreciated as well, obviously !
---
Last edited by Acumen; 05-14-2012 at

01:38 PM

.