[Open Beta]Money Witches: Skill Based Action Puzzle With Lots of Coins!
---
The world is in danger... People are getting lazy of carrying coins and using them in everyday life. Coins are piling up in everyone's home. Save the world by playing as a Money Witch and help people clear the coin piles!
The Trailer
Youtube link
|
Pop Up
Looking For Beta Testers
We are trying to test out the game and find our target audience here. We are looking for feedback from core action puzzle fans, especially those who likes arcade style game (serious challenges, skill show-off and big diversity in leaderboards). We are looking for testers that can abuse the gameplay mechanics and get a score over the limit of our system.
If you think you are a die-hard action puzzle gamer and would like to try out your skill, please do join. If you are a casual gamer but like the coin theme you are welcome too! One thing we're proud of Money Witches is no matter if you're a casual or core gamer, you'll get better and better by just practicing.
Device requirement: iPhone3GS, iPhone4, iPod Touch 3G, 4G, iPhone4S, iPad 1, 2, 3.
How to join:
Please reply to this thread with why you're interested in testing the game and what's your experience in other block clearing action puzzle games. We will contact you by pm and send out TestFlight invitation after that.
Introduction
Welcome to the world of money and magic! In this world you play as a witch who can cast a magic called "exchange" to combine small change to big money. The more currency amount you exchange coins to, the more money you'll make out of it!
The game is very easy to pick up. Just drag coins around and put coins with the same value together. As soon as the total number of connected coins is enough, all the connected coins will start flipping and turn into a more valuable coin.
Very different from other match-3 games, the number of coins required for an "exchange" is different according to the currency amount the coin has: you either need 5 coins or 2, depending on if the currency amount on the coins you use for exchange starts with "1" or "5".
1 Cent x 5 => 5 Cent
5 Cent x 2 => 10 Cent
And so on...
This formula adds a whole lot of variation and depth to the strategy and control skills when it comes to combo. Combo is the core of the game. It gives player magic power, gives player big bonus to get highscore, and most importantly, it stops incoming coins from adding up to the board so you can have time and space to breath and plan your moves. A combo is exchanges happen at the same time or one immediately after another. The key to make combos is to arrange your coins beforehand and plan your moves, so that when an exchange finishes and new coin is created, it will land on coins with the same currency amount and start a new exchange.
The game also features various characters with unique abilities and an arsenal of spells you can buy and use in game to get through danger situation or fish for big score bonus.
The game will be released with 3 single player game modes. Multiplayer game modes will be added in the future and will be the main focus of the develop team. For a skill based game, the most enjoyable thing is to compete with others and we will make sure of that.
Estimated release date: July 2012, universal app.
Money Witches Website
Screenshots
Inspirations
The whole idea of the "coin exchange" theme comes from a classic Neo-Geo arcade game "Money Puzzle Exchanger". (
http://en.wikipedia.org/wiki/Money_Idol_Exchanger
) We are all fans of the game due to the core gameplay mechanic allows player to build up combo in a very creative way. Also the coin theme is very satisfying to play with.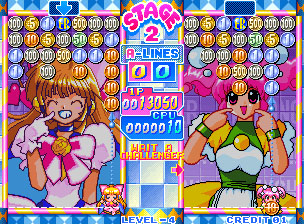 Before we even started to build prototype for the game, there's one action puzzle game on iOS that blew our mind. The name of the game is Birzzle. (Sorry I don't think it's allowed to post the link, but it's easy to google if you don't know the game)
Birzzle invented a new control scheme for action puzzle that works perfectly on touch screen. We believe there's no better way of doing it so we incorporate the control scheme into Money Witches and it turns out really well.
Besides all these features we borrowed (shamelessly), our goal is very clear: Make a skill based game for core action puzzle gamers (to save them from all the heavy randomly match-3 games in the market), at the same time make sure it's easy to pick up by anyone, include your non-gamer girlfriend/boyfriend, your parents and kids. We miss the good old time when we play Tetris with our parents or cousins and we want to bring it back on iOS.
Thank you so much for reading it, have fun with Money Witches!
---
Last edited by nantas; 05-10-2012 at

09:08 AM

. Reason: Update beta test requirement