EIGHT - A Free Dice Strategy Game
---
Youtube link
|
Pop Up
EIGHT – A Free Dice Strategy Game
In the mystical islands of China, The Eight Immortals played a dice game to determine the fate of humanity. Life & Death all hinged on the roll of a die…
Eight is a dice game based on the Chinese myth of The Eight Immortals. Ancient legends describe the Eight Immortals playing a dice game that decides the fate of all humanity. Using eight 8-sided dice, The Eight Immortals used the game to gamble, settle differences, and pass the time. Only one set of the dice survive today...
Play a strategic dice game 1000's of years in development!
Eight combines the elements of luck, risk, & strategy while retaining a simplicity of play. Roll the Eight dice and receive points for straights, sets, pairs, and point dice. Decide when to keep what you have, and when to risk it all for one more throw of the dice.
Features:
Single Player With 8 AI Opponents
8 AI Opponents each with its own risk profile for a variety of different challenges.
Shake 'em Technology Allows You To Shake Device To Roll The Dice
20+ Achievements & Leaderboards.
Local Multiplayer
Host a local multiplayer game for 2-4 friends on 1 device!
Add AI opponents to challenge you and your friends.
Online Multiplayer
Online Multiplayer for 2-4 gamers.
Create Rooms for you and your friends or challenge an opponents from around the world
Release Date: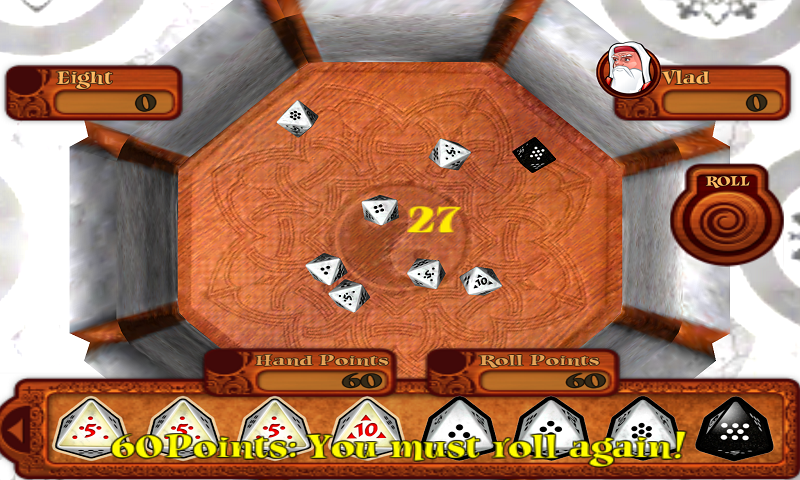 ---
Last edited by Black Ops; 06-18-2012 at

07:21 PM

. Reason: youtube bb code