Tiny Defenders Vs Slimes - Free Tower Defense Game for the iPhone / iPod Touch
---
Hi everyone. My name is Rob, creator of Tiny Defenders Vs Slimes. I am an Indie IOS Developer based in the San Francisco Bay Area.
I am happy to announce that Tiny Defenders Vs Slimes is now available for download on the App Store.
Link of Tiny Defenders Vs Slimes on the App Store:
https://itunes.apple.com/app/id612851833
Check out the trailer:
Gameplay:
Website:
http://robegamesios.wix.com/tinydefenders
ScreenShots: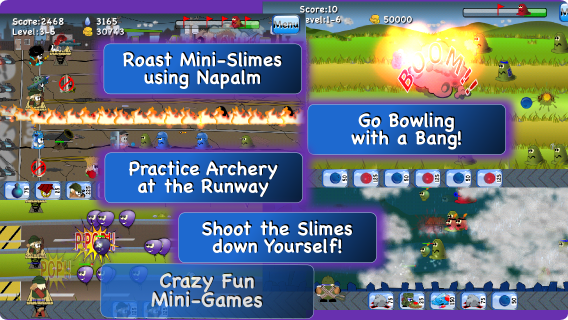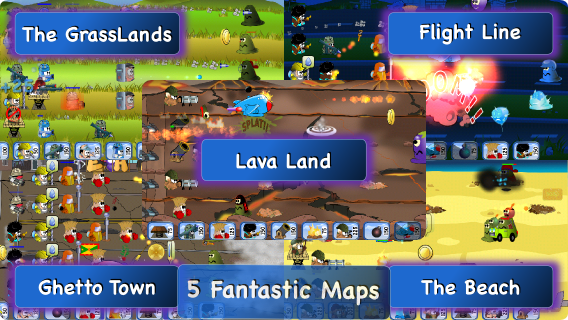 Info:
Tiny Defenders Vs Slimes is a Free Tower Defense Game for the iPhone / iPod Touch and iPad. It is a fast pace and entertaining Strategy Game wherein you place different types of Defenders in the Map to suppress advancing Slimes.
Features:
-50 Fun-Slimey Levels.
-5 Amazing Maps.
-Crazy Fun Mini-Games.
-34 Defenders each with its own unique ability. Some can Move around the map to Evade advancing slimes, others can Zap, Blow-Up, Freeze or Toast slimes to a crisp. Devastating WMDs like the Electron Cannon and AW Bomb!
-26 varieties of Slimes each with their own sneaky way to get pass you or eat you. They walk, drive, fly, parachute down or dig underground!
-A little bit of Word Puzzle. Guess some mystery words and earn bonus coins and minerals.
-Lots of upgrades for Defenders like Increase Health, Learn Agility, Increase Awareness, etc.
-22 awesome achievements to complete.
-The game is FREE and Coins can be collected during gameplay via Loots dropped by Slimes or by guessing mystery words. But if you need to have more just incase you want to be trigger happy with the Electron Cannon or buy all the upgrades in the Shop, then Coin Packs are also available via In-App Purchase in the Shop Menu for a low price. You can buy up to 1 Million Coins and earn the Status of Millionaire!
-Full support for 4 inch retina display.
-Compatible with IOS 5.1 and later.
-Compatible with iPhone 4, iPhone 4S, iPhone 5, iPod Touch 4th Generation and later.
-This release is for iPhone and iPod Touch only. The iPad version is nearly complete and will be available in the next game update.
Please LIKE the videos if you like them. Feel free to leave comments too.
For comments or questions, contact info below.
website:
http://robegamesios.wix.com/tinydefenders
email:
robe.games.ios@gmail.com
twitter: @robegamesios
thanks for viewing.