Castle of Magic- Gameloft
---
http://toucharcade.com/2009/06/02/a-...ng-platformer/
Quote:
Gameloft previewed a number of titles for us at E3 today. The one that seemed the most exciting for us was Castle of Magic, a 2.5D sidescrolling platformer that simply looks great.

Castle of Magic is an existing mobile game that received solid reviews that Gameloft is bringing to the iPhone at the end of June. You are a little boy that must save his girlfriend from an evil wizard. You run andjump your way through levels while mastering level-specific special powers that help you along the way. The game really has that console feel to it with polished animations and intricate level designs. There seem to be a wide variety of level design elements to keep things interesting, as well as a number of secret areas that can be found.

Game features listed include:

5 beautiful 3D environments, each in a different material influencing the gameplay: slip on ice, swim in the sea, levitate in space, get glued in pastry, and more!
Accelerometer use: shake your device to release a superpower.
5 different bosses: the giant snake, the octopus, the space-ship, the snow-man and the bee. + A huge variety of enemies: from pirates to monsters, etc.
Transform yourself in 6 different cute characters with each a different power: Robin Hood casting arrows, the invincible fat guy, the reckless swordfish, and more.
Lots of secondary collecting quests: find witches hats to win extra lives and search for secret worlds to maximize your diamond collection.
Gameloft's gameplay video shows the quality of the game itself, and we have an actual hands on video that will be coming. The game is said to include about 3.5 hours of play straight through but each level has a 3-star achievement system based on how many diamonds you collect, and secret areas to help boost your score. Controls use the typical Gameloft control pad on the left with buttons for fire and jump (and double jump).
http://wireless.ign.com/articles/990/990028p1.html
Quote:
The iPhone will never have Super Mario Bros. -- and Gameloft aims to fill that void with its upcoming classic-style platformer Castle of Magic. Castle of Magic is a port of an existing mobile game -- and excellent existing mobile game -- but the game has been completely overhauled for the iPhone. The 2D sprites have been completely replaced by 3D characters. The game's color palette seems to have expanded fivefold. If only more mobile-to-iPhone ports got this kind of treatment...
Castle of Magic stars a little boy that must rescue his sister from the clutches of the evil wizard Nefastax. Fortunately, when Nefastax pulled the brother into his magical world, he was able to use mystical spells himself to go on the attack against the wizard. Through finding power-ups like hats and feathers, you get new skills like the ability to fire magical arrows that not only destroy enemies, but can also be used as impromptu ladders to reach high ledges. In addition to picking up spells like magic arrows and fireballs, you can also take on new forms such as a swordfish.
Everybody loves massive bosses,
This game plays very much like an old-school platformer from the 8- and 16-bit eras, complete with running, jumping, and stomping on enemies to release treasures. In Castle of Magic, you collect gems that act like Sonic's rings. When you are tagged by an enemy, you lose a stream of gems. Try to recover as many as possible before they twinkle out of existence. There are tons of hidden areas with bonus goodies, like super stars that increase your end-stage bonuses. To find them, you just need to use new powers in tandem with good ol' platforming tricks, like looking for a path that looks like a dead-end at first, but ends up being a total treasure trove.
Classic platformers often lived and died by the precision of their controls. Castle of Magic utilizes a virtual d-pad and action buttons. You can customize the controls from a handful of options. The default d-pad worked fairly well with my sausage thumbs and the action buttons preformed flawlessly.
I really, really enjoyed Castle of Magic on mobile. After my play session today, I suspect this iPhone will be just as charming. It is loaded with tons of stages and huge boss fights, like a massive snowman and gigantic octopus. If you grew up on NES and Genesis, this game is a love letter, written expressly to you.
Gameloft will have Castle of Magic on the App Store later this month, so look for a full review in near future.
Youtube link
|
Pop Up
Youtube link
|
Pop Up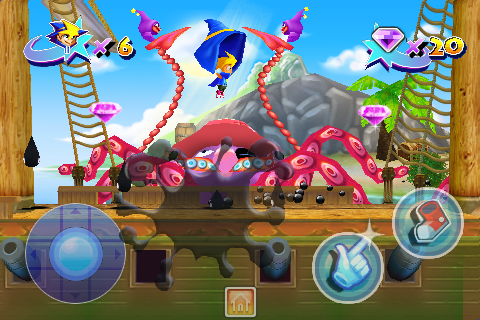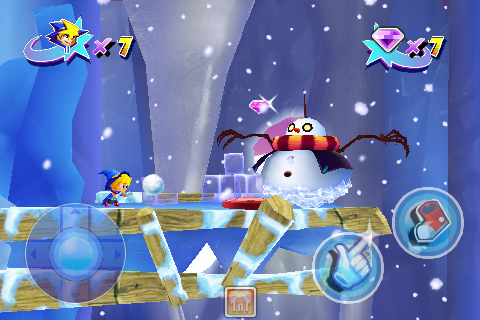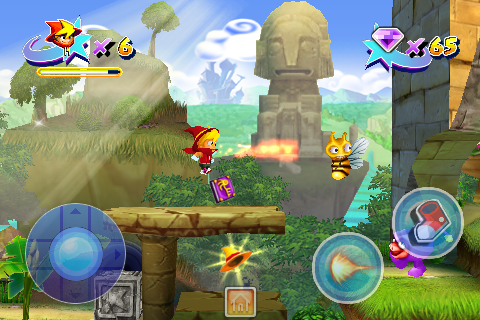 ---
Add me on Steam for TF2: eggzbacon
---
Last edited by eggzbacon; 06-03-2009 at

04:58 PM

.