"Tri" Famous Trios Challenge (3^3 codes!)
---
Tri
--the threeky-deeky arcade game from Tricochet (awarded 5 stars by TouchArcade community member
Lord Gek
!)-- is about to be updated to version 1.0.1 in the App Store. (A "lite" version --
Try Tri
-- will also be available for free.)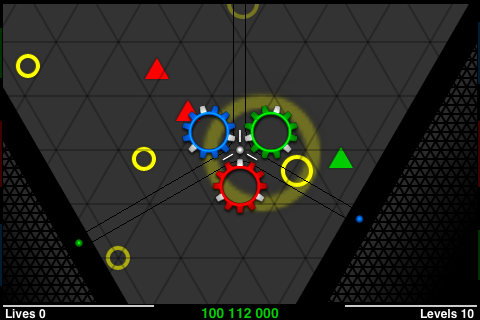 With promo codes for version 1.0 doomed to expire, I've decided to hold a tri-riffic little contest:
"POST A TRIO, GET A PROMO"
UPDATE: THE CHALLENGE HAS ENDED!
Post a list of the members of a famous trio, and I'll PM you one of twenty-seven (that's the third power of three!) promo codes.
Terms:
Codes are only valid in US iTunes App Store
The trio must be "famous". (I need to recognize it or be able to verify that the individuals are usually associated with each other. Please be sure to explain your submission (eg, "The Marx Brothers").)
The trio must involve "people" (including fictional characters, who may or may not be human); I'm not interested in conceptual trios (eg, "morning, noon, night").
If multiple people submit the same trio, priority goes to the first submitter of the trio.
Simple variants of a trio (eg, different triples of Charlie's Angels) don't count. I'm looking for originality here!
Please post only one trio at a time, so as not to lock out later submitters. (Feel free to PM me if you have extra trios. I'm always looking for more.)
The following trios are already taken:

Sabrina, Kelly, Jill ("Charlie's Angels")
Tom, Dick, Harry (Traditional)
Billie Jo, Bobbie Jo, Bettie Jo ("Petticoat Junction" Sisters)
Snap, Crackle, Pop (Kellogg's Rice Crispies Mascots)
Natalie, Martie, Emily (Dixie Chicks)
Abraham, Martin, John (Song)
Brenda, Dee Dee, Taffy (Captain Caveman's Teen Angels)
Josie, Valerie, Melody (Josie and the Pussycats)
Billy, Dusty, Frank (ZZ Top)
Emerson, Lake, Palmer (Band)
April, May, June (Daisy Duck's Nieces)
Marshall, Will, Holly ("Land of the Lost" Characters)
Will, Robot, Dr. Smith ("Lost in Space" Characters)
Pete, Linc, Julie ("The Mod Squad")
Egon, Ray, Venkman ("Ghostbusters")
Anita, Ruth, Issa (The Pointer Sisters)
Harry, Hermione, Ron (Hogwarts Students)
Moe, Larry, Curly (The Three Stooges)
Manny, Moe, Jack (The Pep Boys)
Kirk, Spock, McCoy (Starfleet Officers)
Bubbles, Buttercup, Blossom ("The Powerpuff Girls")
Peter, Paul, Mary (Folk Music Trio)
Patty, Maxene, Laverne (The Andrews Sisters)
Groucho, Harpo, Chico (The Marx Brothers)
Faith, Hope, Charity (Graces)
Barry, Robin, Maurice (The Bee Gees)
Euphrosyne, Aglaea, Thalia (Charities (Greek Mythology))
Caesar, Crassus, Pompey (First Roman Triumvirate)
Athos, Porthos, Aramis (The Three Musketeers)
Huey, Dewey, Louie (Donald Duck's Nephews)
Mike, Robbie, Chip ("My Three Sons")
Janet, Jack, Chrissy ("Three's Company")
Kukla, Fran, Ollie (70s Children's Show)
Plácido, José, Luciano (The Three Tenors)
Nick, Joe, Kevin (Jonas Brothers)
Prudence, Piper, Phoebe (The Charmed Ones)
Clotho, Lachesis, Atropos (Fates (Greek Mythology))
Wynken, Blynken, Nod (Poem by Eugene Field)
Dmitrii, Ivan, Alyosha (The Brothers Karamozov)
Lucky, Dusty, Ned (The Three Amigos)
Winifred, Sarah, Mary (Hocus Pocus Witches)
Sabrina, Hilda, Zelda (Spellmans on "Sabrina the Teenage Witch")
Alex, Justin, Max ("The Wizards of Waverly Place")
Chandler, Ross, Joey (Male "Friends")
Monica, Rachel, Phoebe (Female "Friends")
Butcher, Baker, Candlestick Maker (Men in a Tub)
Diana, Mary, Florence (The Supremes)
Theodore, Simon, Alvin (The Chipmunks)
Steve J., Steve W., Ronald (Founders of Apple Computer)
Tony, Orlando, Dawn (Tony Orlando and Dawn (ha!))
Suzanna, Vicki, Debbi (The Bangles)
Phil, Oprah, Geraldo (Talk Show Hosts)
Blair, Tootie, Natalie ("Facts of Life" Girls)
Marcia, Jan, Cindy (Brady Girls)
Greg, Peter, Bobby (Brady Boys)
Alex, Mallory, Jennifer (Keaton kids on "Family Ties")
Scarecrow, Tin Woodman, Cowardly Lion (Friends of Dorothy)
Maddie, David, Agnes (Blue Moon Detective Agency ("Moonlighting"))
Cornelius, Zira, Dr. Zaius (Apes)
Shadow, Sassy, Chance ("Homeward Bound: The Incredible Journey")
Carly, Sam, Freddie ("iCarly")
Leela, Bender, Fry ("Futurama")
Peter, Michael, Jack ("Three Men (and a Baby)")
Yakko, Wakko, Dot (Warner Brothers and Warner Sister ("Animaniacs"))
Gödel, Escher, Bach (Book by Douglas Hofstadter)
Neil, Buzz, Michael (Apollo 11 Astronauts)
Best three-gards,
Don
---
Last edited by tricochet; 06-19-2009 at

08:43 PM

. Reason: Factual error about imminent code expiration, and noting end of contest