Support our Sponsors:
| | |
| --- | --- |
| Review: 'Mass Effect Galaxy' | |
06-27-2009, 06:41 AM
Member

Join Date: Jan 2009

Posts: 83
Review: 'Mass Effect Galaxy'
---
Price
: $2.99 [
Buy
]
Developer
: Electronic Arts
Rating
: 3/10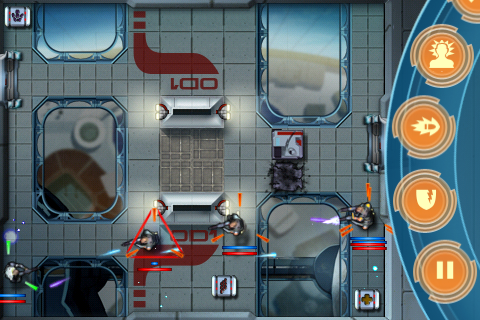 A lot of hype has surrounded Mass Effect Galaxy lately. The game is a missing link between EA's Mass Effect and the upcoming Mass Effect 2, and it promises promising a gripping storyline, the ability to unleash a torrent of firepower, and insider information information on upcoming characters in the Mass Effect universe.
One word - this game is pure s***.
What you can say about Mass Effect Galaxy is that it makes a very good first impression, especially with the highly impressive cutscenes. Once you start the game, however, you figure its a very very bad top-down shooter. Mostly you don't do anything at all, and the game is insanely easy. You just move around a bit, dodge very slow-moving lasers, and take down your enemies using auto-fire.
You move around using very unresponisve accelerometer controls, and just have to tap an enemy to lock on and toggle auto-fire, and the game has nothing else in gameplay other than a shield breaker, a heavy weapon and an enemy freezer which can be toggled using buttons on the right.
The other part of the game is conversations. Occasionally you get to converse with people, and choose what to say from your available choices. The problem is, most of these choices eventually lead to the same thing, or just lets you skip a battle or make a very minor change in the path of the game. This makes the whole process of going through the conversation rather pointless, and is totally a disgrace to non-linear gameplay.
Fans of EA's Mass Effect could buy this game just for the story, though they'd be greeted with something that is totally unlikely of the Mass Effect universe they know. And for the most of the crowd who haven't even played Mass Effect, Mass Effect Galaxy doesn't bring much to the table.
App Store Link
:
Mass Effect Galaxy, $2.99
Posting Rules

You may not post new threads

You may not post replies

You may not post attachments

You may not edit your posts

---

HTML code is Off

---