Your Opinion of Game Description for Match 3D Flick Puzzle
---
First, the game: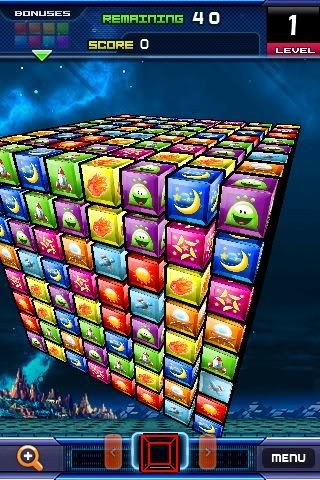 The Two Descriptions:
Number One:
Quote:
Match 3D Flick Puzzle is the is more than a single great matching game, it's several games in one.

Your playfield is a 3D supercube consisting of 512 smaller cubes. Easy-to-use controls allow you to access individual planes and faces of the cube. In Match 3D matches of three or more of the same patterned cubes can occur in three dimensions as well. Special cubes provide wild-card instant-matches, cube-blasting explosions, and bonus blocks.

Match 3D offers many play options -- from casual to intense.

Classic: Blocks removed are replaced with new blocks. You progress from level to level by scoring a specific number of matches

Survival: Blocks removed are not replaced. You progress from level by level by removing all possible matches on the board

Un-Timed vs Timed: Create a casual game experience or an incredibly intense one. It's your choice.

Locked vs Unlocked blocks: A challenge for the skilled players - locked blocks appear at higher levels and cannot be moved

Special bonuses are earned as you score more matches. These can be used to help you progress to new levels.

Match 3D saves multiple games in progress automatically, records your high score and features three different music selections or allows you to play music from your iPod instead of the game's music.
Number Two:
Quote:
OMG! Look out! It's MATCH 3D FLICK PUZZLE

You think this is another cute tile matching game? Are you crazy??? MATCH 3D FLICK PUZZLE EATS TILE GAMES FOR BREAKFAST!

These FIVE HUNDRED AND TWELVE cubes of the hottest puzzle playing goodness are seriously going to mess with your brain.

Look at that 3D goodness. No wait, don't look, because MATCH 3D FLICK PUZZLE is going to make you wish you had never played it.

This CRAZY stuff is going to take over your life.

WTH! You can look INSIDE THE CUBE! Don't Panic!

WAIT! Did I just see you flick that cube around? And you can get super close to it? Did I just set off a MASSIVE EXPLOSION. IS THIS REALLY HAPPENING?

Admit it, MATCH 3D FLICK PUZZLE just made you cry a little, didn't it?

Avoid staring at the pictures because it will FREAK YOU OUT!

What's this? SURVIVAL GAME! TIMED! You want this? Really?

YOU CAN'T HANDLE SURVIVAL TIMED! You don't have to. MATCH 3D FLICK PUZZLE will satisfy any mania for puzzle play. Classic or Survival. Timed or Not. Unlimited Levels.

IMPORTANT WARNING: If you show this game to your friends they will probably steal your iPhone or iPod touch. Or maybe just pay you $$$ so they can play it too.

WHY ARE YOU STARING AT THIS PAGE? JUST BUY MATCH 3D FLICK PUZZLE NOW!
---
A late game is only late until it ships. A bad game is bad until the end of time.

- Shigeru Miyamoto