★RageMaker.OMG★- 50 Promo Codes!(* ̄∀ ̄)****( ̄∀ ̄*)ノ
---
Dear,All!
I am giving away 50 Promo codes for RageMaker.OMG for iPhone.
Reply this thread, I will PM you a promo code.♡^▽^♡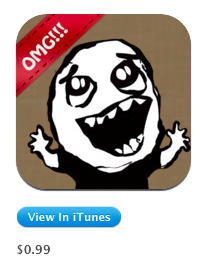 Features:
*Easy to use interface
*Lots of faces included in the app
*Use your own images
*Include as many text blocks as you want
*Save to Albums,and share to Your FaceBook,Twitter or Email,WeChat~~~Enjoy!!
Please give rates and reviews for this games on iTunes
Good luck and thanks for your support!
iTunes:
https://itunes.apple.com/us/app/id559674525?mt=8
Our FaceBook:
http://www.facebook.com/pages/Ragemaker/489597737752435
Our Twitter:
https://twitter.com/RageMake