ADD Me - Friend Code Finder: Promo Codes
---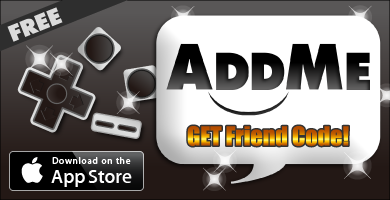 I've just release ADD Me-Friend Code Finder as Beta Version in Canada and will be released in US within a week depending on Apple.
I would like you to hear your feedback to improve my app.
ADD Me is a BBS app to find or recruit friends for social gamers by uploading friend code or just one tap to copy other friend codes.
Features:
1. Input all information that you are playing at Profile.
2. New post of other players is displayed at Timeline.
Find a player you want to be a friend and tap "Copy Code". It is copied to the clipboard and paste it on the app you want to send a friend request.
*If you want to see new post, tap "Refresh" button at Timeline.
The games listed:
-The Simpsons™: Tapped Out
-Dragonvale
-Rage of Bahamut
-Legend of the Cryptids
-Modern War
-Castle Age HD
-Dark Summoner
-Crime City
-Puzzle & Dragons (English)
-Blood Brothers (RPG)
-Lord of the Dragons
[Note]
ADD Me is unofficial app and no relationship with the listed apps on ADD Me.
Here is the Promo Code:
LTKFK3KY4YPT
WFJNR47946YL
JJL67M6WNKJX
WMFMNXNAWWAE
YRHEXAREHK77
HRK474FMJ3WA
TXAXRAHH7KA6
NJLHYKTFH33X
MN37AXTWH4K4
9AXR3P743YWH
Thank you so much for your cooperation!