Fantasy Shooter 0.99$ => FREE
---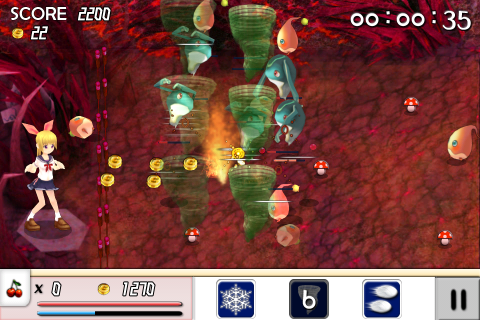 FANTASY SHOOTER
(Shooter defense game)
─────────────────────
Description:
─────────────────────
▶Fantasy Shooter is a game that attacks enemies with powerful skills, which then allows you to defend your tower.
▶In this game, you can control Erin, a magical girl. You can easily be played by one finger and throwing the balls to your touch point on the screen.
▶Skill upgrade your skills and use various items to survive from dangerous moments.
▶Register to the game center and compete your ranking scores with friends.
─────────────────────
★FEATURES★
1) You can easily adapt to Fantasy Shooter without a tutorial.
2) One finger control, simple rules.
3) Powerful skills and upgrade.
4) Smooth gameplay under any circumstances.
5) Supports Retina Display and iPad
─────────────────────
Free download link :
https://itunes.apple.com/us/app/fantasy-shooter/id576216546?l=ko&ls=1&mt=8
─────────────────────
Plus version (Bonus 60,000 gold, $4 value) :
https://itunes.apple.com/us/app/fantasy-shooter-plus/id576216570?l=ko&ls=1&mt=8