Leaf Bound: Mecha Monkey Mayhem
---
Price 59p/$0.99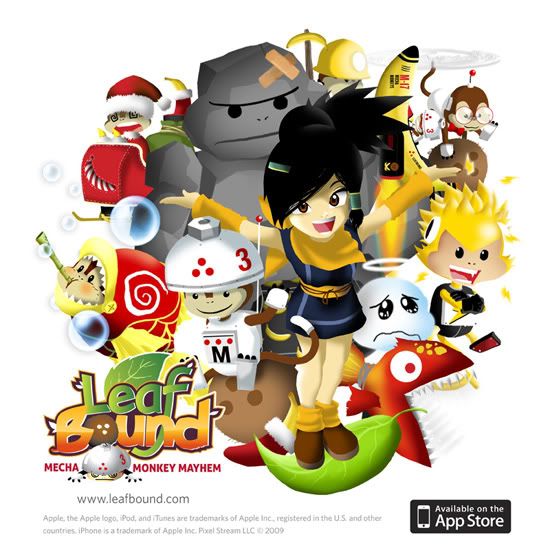 Leaf Bound: Mecha Monkey Mayhem
- Join Yuri on her adventure to battle evil robot monkeys, and save her land from certain mayhem. Jump your way across lush jungles, tropical forests, dark caverns, and even across a Space Shuttle Launch Center. Leaf Bound features original hand-drawn artwork, beautiful backdrops, and a cool cast of badies—only on the iPhone and iPod Touch.
Features
:
- Beautiful hand-drawn artwork and backdrops.
- 8 Levels of Mayhem!
- Battle unique end of level bosses.
- Submit your top scores online and compete with other scores.
- Unique level music on every stage.
- Collect food items for invincibility and restore health.
- Quick save and resume. If you exit the game it will resume next time you play.
- Campaign mode: Play through all of the levels.
- Arcade mode: Select to play any level any time.
- Levels becomes more challenging as you progress.
- Listen to your own iPod music while playing! Just start up your iPod's music before playing and Leaf Bound's music will automatically turn off.
There website add
http://www.leafbound.com/
Link to original thread in upcoming games on Touch Arcade
http://forums.toucharcade.com/showth...ght=leaf+bound
---
Last edited by THE STUD; 08-03-2009 at

06:38 PM

.