iValet
---
Price 59p/$0.99
http://itunes.apple.com/WebObjects/MZStore.woa/wa/viewSoftware?id=317959816&mt=8
iValet is a simple but addictive time management gaming experience. You are in command of five valets. You issue commands to each valet with a simple three-tap action. Tap a valet, tap a car and tap a spot. It is that simple. It almost seems a little too simple but you will soon find that things get interesting in a hurry! See how long you can last against increasingly difficult waves of traffic. If customers have to wait too long to drop off or pick up their car, they will get angry and drive on by or go get the car themselves. If you get ten angry customers, game over!
Game features include:
- Simple, intuitive controls
- Increasingly difficult waves of traffic
- Quick save and resume - whenever the game exits (for a phone call, etc) your current game state will be saved so you can restart exactly where you left off
- One-way, two-area parking lot offers a chance for you to strategically park your cars based on the current situation. A nearby spot when parking may leave you with a longer return time later on.
- Random guest anger thresholds. Different guests get angry at different rates, so choose which cars you bring back first carefully...so much for first come, first serve!
- Personal Best Score Keeping
- Online Top Ten (requires internet connection)
- Over 20 beautifully rendered car styles
- Watch cars/valets intelligently drive/walk around the lot (traffic jams can get interesting)
- In-game tutorial
How to play:
- To park a car - tap a valet, tap a car, tap an empty parking spot
- To return a car - tap a valet, tap a parked car, tap the "RETURN" spot
- See in-game tutorial for more details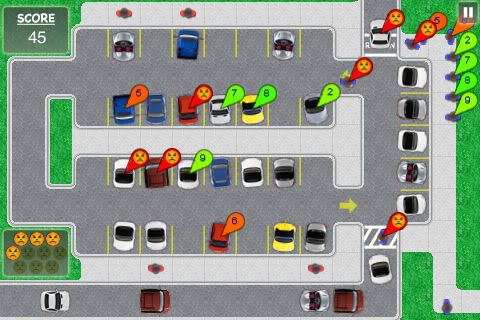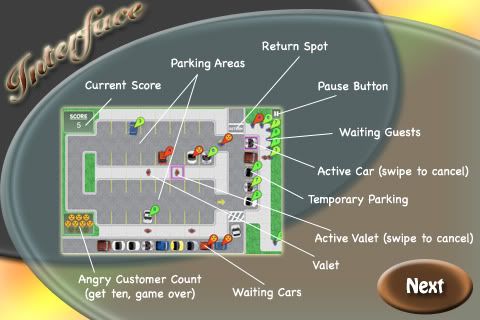 ---
Last edited by THE STUD; 07-07-2009 at

05:57 AM

.