Coconutbowling's Rhythm Game Thread
---
(lol I meant to post this in the general games discussion, whoops! mod?)
It's a shame that good ios rhythm games aren't given good light. A quick search of ios rhythm games on google and the appstore gave me crap. It's amazing how good titles get overshadowed by poor outdated games like Tap Tap Revenge or Rock Band. Here's a list of worthwhile rhythm games for ios. The list is directed mainly at ipad users but also can apply to ipods/iphones. Also, price is disregarded.
Keep in mind, these are traditional rhythm games in the sense of hit a note, get points, as opposed to games with music (a la Beat Sneak Bandits, Bit Trip Series, Dropchord, etc.)
ReRave:
ReRave iTunes Link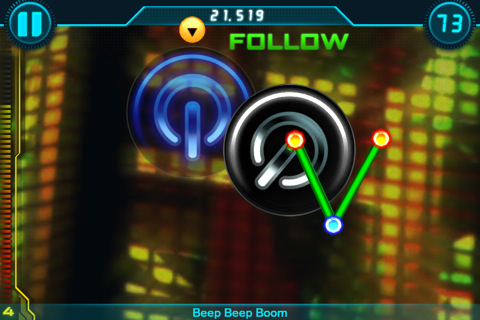 Rerave is a rhythm game from people who previously worked on Stepmania and the like. Unlike most rhythm games it also factors placement accuracy as well as timing. The music is varied, and charts are fun and dynamic.
Jubeat/Jukebeat:
Jukebeat iTunes Link
,
Jubeat iTunes Link
Imagine musical whack-a-mole. This is Jubeat, a rhythm game that is easy to learn, but takes a long time to master. Gameplay is smooth and really fun. It sports the biggest songlist of any game, and by big I mean hundreds of constant new songs (JP).
Reflec Beat/Reflec Beat +:
Reflec Beat + iTunes Link
,
Reflec Beat iTunes Link
Whereas Jubeat is to whack-a-mole, Reflec Beat is to air hockey. Reflec Beat does away with standard lanes and has targets come at you at all angles to tap once it hits the line. It's super fun, and also has an ever growing songlist.
Osu! Stream:
Osu! Stream iTunes Link
Playing like Ouendan, Osu has you tapping notes as a ring encloses them. The theme is very simple and minimalistic, and the songs are all really fun. Unfortunately, the scoring system is very outdated as it relies on combo and early mistakes. but for sheer gameplay itself, it's a wonderful rhythm game with a lot of polish.
Tone Sphere:
Tone Sphere iTunes Link
Tone Sphere is a gorgeous game with with excellent music and style. At first it may seem like and Osu clone, but what sets it apart is dynamic charts that visually represent the music. It's an incredible experience that is very fun.
Rhythmix:
Rhythmix iTunes Link
A DJ Technika clone, Rhythmix differentiates itself by adding new notes such as the flick. While overall it's pretty good, but doesn't compare anywhere near Technika itself, especially with the lack of song choices. Still, unless you have Q, it's the only one of its kind in the app store.
Cytus:
Cytus iTunes Link
A game similar to Technika as well, this instead has a bar moving up and down. The songs are excellent and the gameplay is fun. The timing windows are way too large though, and it is almost too easy to do well on a song. That plus sync issues get in the way of this being a top rhythm game. However, the music is amazing and the developers constantly pump out new music to the game.
Rhythm Control 2:
https://itunes.apple.com/us/app/rhythm-control-2/id498660240?mt=8
One of my personal favorites (hmmm I wonder why), Rhythm control is a hybrid of Jubeat and Osu; 6 stationary spots that you tap when a ring approaches the center. While I love nearly everything about it, some songs suffer from offset issues which make it annoying to play. Other than that, it's one of the most polished rhythm games out there. Gameplay is fluid, and the developers have been quite active in releasing new songs.
Deemo:
Deemo iTunes Link
From the makers of Cytus comes Deemo; a very pretty and very accessible rhythm game. Everything about it oozes with style, from art, to the music, to the subtle story. Like the previous game, offsets can be a bit weird, but it's definitely improved upon the old system, and the tighter timing windows make it more challenging for veterans. However, the scoring system isn't forgiving; as (not confirmed) combos and
Beat Gather:
Beat Gather iTunes Link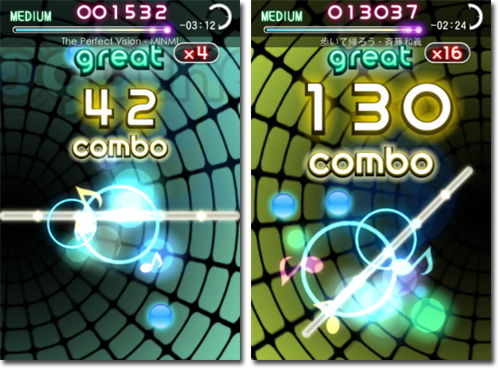 An interesting concept for Konami to release. In this game, you use your own music to create charts to play. Gameplay is standard scrolling notes with some swipes, and direction changes. You can share creations with others which is nice if you're part of a tight knit community. However, making charts is very rudimentary. You essentially tap what you want on a playthough, and what you tapped gets repeated back for future playthroughs.
Pulse: Volume One:
Pulse: Volume One iTunes Link
Don't expect much in the difficulty department, but do expect a beautiful game with stunning music. The gameplay is an area with which ring pulse outward. You tap a note when the ring hits it. While the replay value may be limited due to the small tracklist, it still is a fun game to relax and enjoy.
---
Last edited by coconutbowling; 04-01-2014 at

10:39 PM

.