Support our Sponsors:
| | |
| --- | --- |
| Review Of Marine Sharpshooter | |
07-14-2009, 06:13 PM
Banned

iPod Touch (2nd Gen), OS 3.x

Join Date: May 2009

Location: Padded Cell With A Strait-Jacket On And A Bib.

Posts: 764
Review Of Marine Sharpshooter
---
Marine Sharpshooter Review
Price $0.99/59p
Marine Sharpshooter
is a customised iphone version of the best selling pc sniping game of all time.You play as an elite marine sharpshooter dropped behind enemy lines to uncover and dismantle an enemies plot to launch attacks across the world.Remember one shot,one kill.
Gameplay
There are 5 main missions each containing over a dozen combat environments with multiple hostage rescue and target assassination missions.
You get to choose from multiple weapons and these include:sr25,m82 and more each with there own unique attributes.
There are 2 play modes and they are story mode and arcade with 2 types of control:Swipe the screen and tilting.
Your gameplay screen shows your breathing icon in the bottom left to control your breathing and to aim better when firing.Bottom right is your fire trigger icon which fires at your targets and how many bullets you have left.Top left is your health bar,time left and points scored(See pic below). You basically get an environment and it shows x amount of red dots,you then click on one of those and it then zooms you into that position where you then see your targets.Scout out the area first then take your targets out and then choose another red dot and same thing again until all missions on that level are complete or until you die whichever comes first and when your health is low the screen goes red to let you know that you are near to death.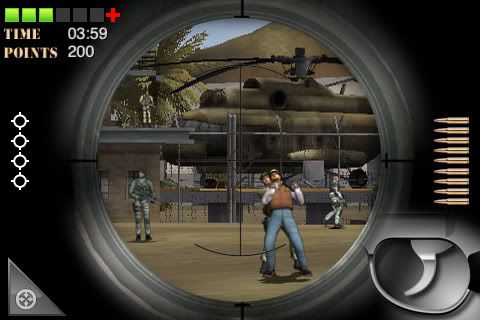 Game Pros
The graphics are well done and the gameplay is enjoyable.If you have or have played Shooter then it plays like that game.There is a choice of weapons which is always welcome and the missions are varied enough.
Game Cons
Only 5 missions which may leave you wanting more.You can't move your sniper around except for your snipers scope so you can't hide so it's a case of hitting your targets before they get you and would be better if you had camouflage or something similar.
Overall
Overall quite an enjoyable sniper game with well done graphics which plays a lot like Shooter so if you like that one you will know what to expect from this.
Maybe needs a few more missions and maybe a way to camouflage yourself so harder to get hit beacause unless you are quick you tend to get hit too much too soon.
Overall this game is well worth the $0.99/59p but not quite as good as Shooter and i give this game 3.5/5

Posting Rules

You may not post new threads

You may not post replies

You may not post attachments

You may not edit your posts

---

HTML code is Off

---