iShuffle Bowling Portal - A Super Bowling game(Bakumens)
---

Bakumens iShuffle Bowling game series now brings you an entirely new way to play bowling on your mobile devices.
Now you can play iShuffle Bowling Portal game against friends on your mobile device (minimum iOS 6 or iPhone 4 recommended).
Top-rated by iOS gamers across Europe and the US, the iShuffle Bowling series now introduces the iShuffle Bowling Portal, to bring you a new level of extraordinary Bowling world fun.
The iShuffle Bowling Portal supports two-player competition. Challenge friends to beat your score in any of the three modes. Use the Shuffle Board to record all scores and compare all players' highest achievements. In Fly mode, gamers use the slingshot to shoot the Puck at the pins to test skill and strategy for a different kind of bowling enjoyment.
New designs with moving obstacles and random Portal changes challenge your shooting skills to the max.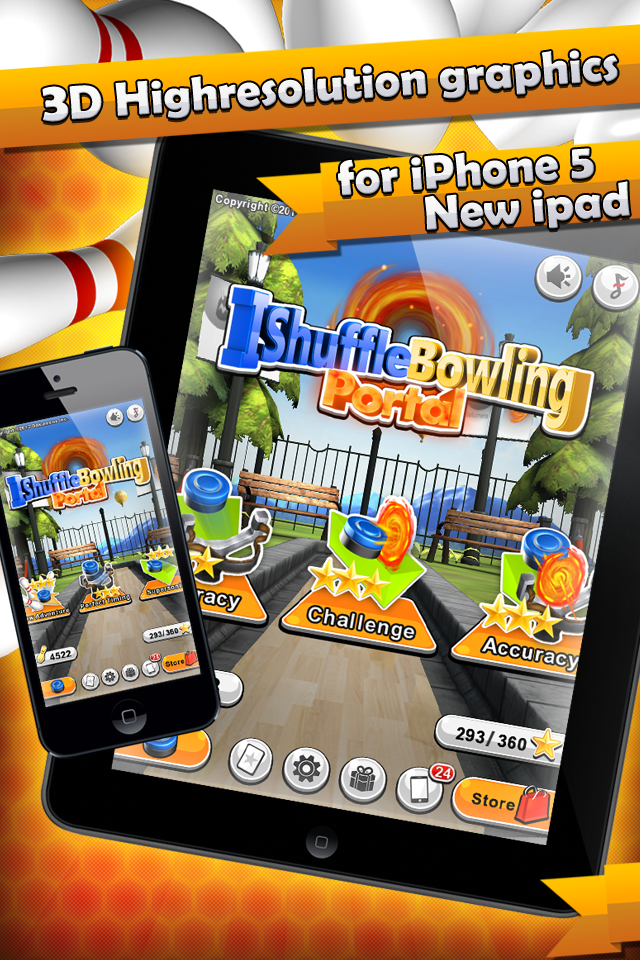 Features:
* Deluxe 3D graphics and animation.
* High resolution images look great on iPhone 5 and the newest iPads.
* Highly realistic movements - accuracy of 3D Physics.
* Crowd-reaction sound effects with every score.
* Easy to learn, hard to master ! You can fine-tune all your bowling and shooting moves, and enjoy top winning scores.
* Score statistics, review progress and compare your achievements.
Game Modes
- Shuffle Mode:
* Natural puck movements - just like real-world bowling.
* Precise adjustment of shooting angles from both sides of the puck help you strike more pins.
* Tap and slide the puck, control its angle and power, then shoot towards the pins.
Just slide your finger gently over the screen and rack up your score.
* New designs make knocking over the pins child's play. . . Or is it?
* Automatic scorer.
* "2 players"selection - challenge your friends ! Choose blue or red pucks for either side.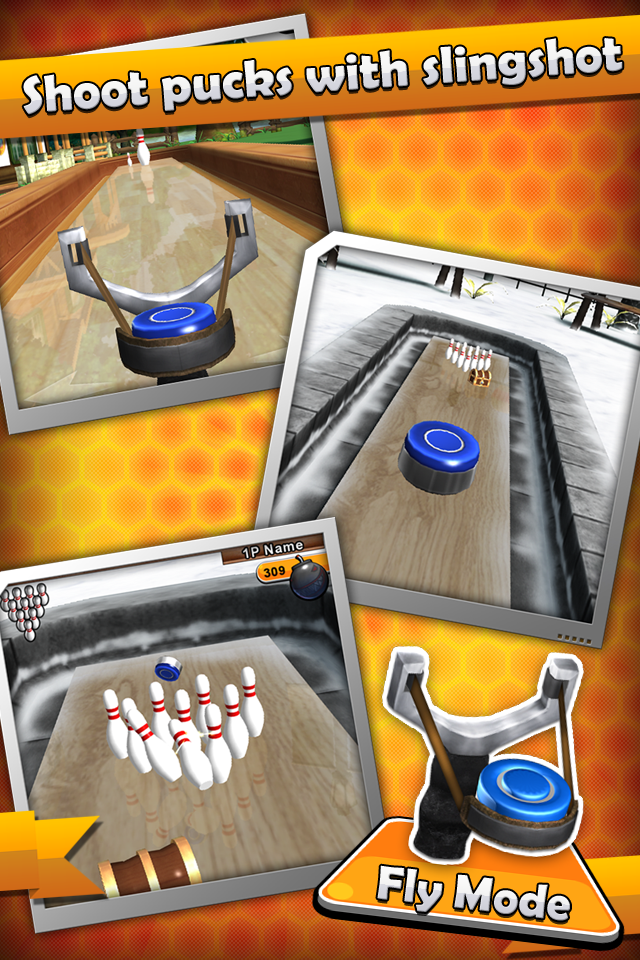 - Fly Mode:
* Tap and slide the slingshot on the bottom of the screen to control angle and power. Pull the sling down to increase shooting power.
* Precise adjustment of shooting angle on the either side of the puck.
* Release the puck by untapping your finger on the screen.
* Beat your best by shooting more pins!
* Automatic scorer – see your progress immediately.
* "2 players" selection - challenge your friends ! Choose blue or red pucks for either side.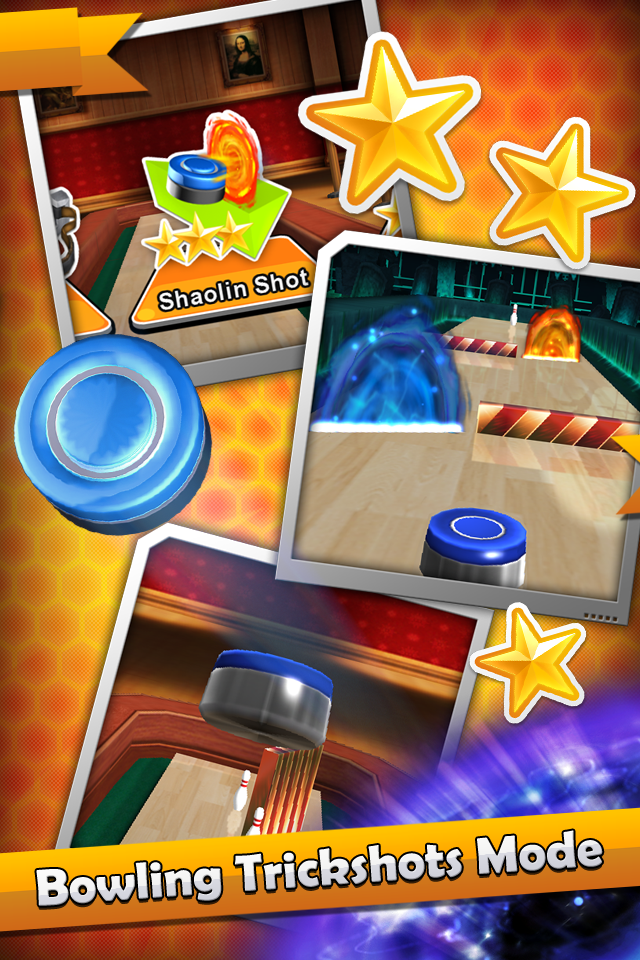 - Bowling Trickshots Mode:
* With three pucks for each Stage, you have three chances to strike the pins on the table.
* Win a new Stage when you make a strike.
* Select "Try Again" if you fail to strike all the pins within one Stage.
* Earn more stars by using less pucks to get to the next Stage.
* Do your best and win more stars in all Stages.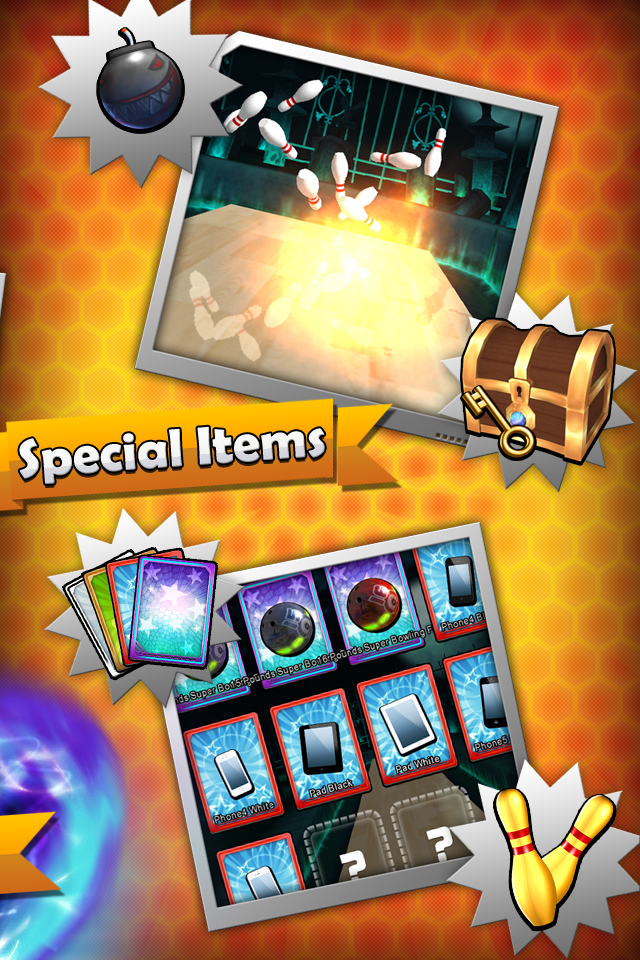 Special Items – some items are available for in-apps purchasing
* Gold Pins – you can purchase more pucks or other special items by spending Gold Pins to extend your powers.
* Bombs – Strike all the pins with just one bomb !
* Keys – use keys to open the treasure box and win the hidden prizes.
* Cards – Every time you win a special item, you also win a reward card.
* Card Collector Album – put all your cards in your Collector Album to enjoy your accomplishments.
More cool games by Bakumens for gamers.
Bakumens' A Little War is getting five-star reviews at the iTunes Store.
We at Bakumens would love to hear all your success stories about playing our cool games.
We'd also like to hear your suggestions for ways we might improve the games for you to increase the fun !
Stories and views received will be shared with gamers around the world on our Facebook,Twitter and Weibo pages.
Happy gaming from all at Bakumens !