Project "Joan" – bloody indie scroll shooter for pixel lovers
---
Update from 2015.01.21
We're still working on it - have a look at the Laser Net gameplay footage:
Update from 2014.07.08
P.S. Release date is set to Nov'2014.
--- More cool stuff ---
Have a look on the updated game feature list and new aimated screenshots.
About the game
Joan Mad Run is a pixel-art gory fight-to-the-death run'n'gun, that takes your enemies straight to hell. Literally.
The story begins with Joan waking up from a razor-sharp nightmare, which, ironically, turns out to be reality. Locked up in prison and bearing no memories about her past, she is left one-on-one with her insanity. Led by her inner voice, that craves for blood, and remorseless in the desire to find out the truth about her real self, Joan sets off on her cutthroat escape mission.
Having no one she can trust, Joan, luckily, has her guns, that would leave no chance for anyone or anything in her way. Stimulating in its sheer insanity and unnerving in its out-of-control brutality, the game instantly forces you into Joan's shoes. And that's when you get an amazing chance to satisfy your bloodlust by burning your enemies alive, melting them with acid, chopping them and watching their blood spurt like geyser, striking them with lightning, exploding them, squeezing them like bugs or sending them directly to the blazing inferno.
Pure and straight-down-the-line in its skeletal outline, Joan Mad Run is not that simple as it may seem. Being infected with the thrill of madness, you will have to try to keep your head cool, think fast and be hell dexterous if you hope to survive. Deadly traps, grisly bosses and callous scumbags are all here. So grab your gun, bite the bullet and show them who's boss.
Key Features
single-player / multi-platform co-op multiplayer
speedy breakneck gameplay with brutal boss battles and hardcore soundtrack
two or more customizable characters
pet companions
dozens of meticulously designed weapons – from shotgun and katana to monomolecular wire and satanic pighead-gun
exquisite and spectacular death effects: cut, explode, burn, freeze, melt, incinerate, squeeze, send to hell and use even more unique torture methods
weapon crafting workbench that will allow to create stunning weapon combos
plethora of atmospheric locations with over 50 callous enemies to test your limits
dynamic environments with shader-based light and particle effects
lots of secrets to unveil - secret levels/rooms/corridors, unique items and easter eggs
procedurally generated levels
supports many game controllers
use your mobile phone as a wireless controller over WiFi
natively stream game video and audio to compatible TVs and media centers over network
play on desktop and on the go on PC/Mac/Linux/iOS/Android (progress synced across your computers and devices)
will support all US/EU/AP major languages (and yours if you help us translate)
Update from 2014.04.07
The free prequel game,
John Mad Run
is to be released in a few days -
check it out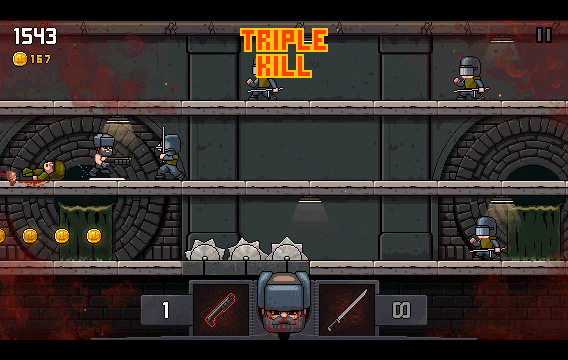 Update from 2014.03.24
Today we added a new screenshot demonstrating a part of the coop multi-player gameplay, John, the new charachter to choose from, and a new level.
In the meantime we are closing the time when we'll be able to release a free demo.
Don't forget to
vote for us
on Greenlight.
Update from 2014.02.18
Todays news are:
- a new video and new screens
- new game description and it's key features
- a launch of the
Joan Mad Run page
on Steam Greenlight
- good news about multi-platform goals
- sad/good news about beta testing
Scroll down for more stuff.
Trailer
The first gameplay trailer video - 5 new levels, a new boss, new mobs and new guns, yet still w/o shaders:
News
The main news today is that we decided to launch the game on as many platforms as we will be able to handle - Mac/PC/Linux/iOS/Android. It'll depend on how well the project is funded and voted. So,
vote
and follow us if you'd like to see the game not just on the iOS.
The sad news is that beta testing iOS builds via TestFlight has recently become impossible for common users, which have no iOS Developer Program account. In order to be able to install anything from TestFlight you'll need first to activate your iOS device using Xcode and the IDP account login. So, we dropped the beta build distribution via TestFlight.
Instead of using TestFlight and because developing the game will probably take at least several more months we will be releasing a free (with no IAP) version of the game with a different main character and a separate new level - hopefully this is a matter of just several weeks.
For some time we were working on a limited Web/Flash version, but, as it turned out, it's far from being playable by now - so, the free prequel on iOS probably comes first.
Stay tuned for more updates and enjoy the new content!
Screens
New screenshots with added shaders and dynamic light effects:
Joan Mad Run
Click the pic to see the actual pixels.
---
Follow us on Facebook to track updates
http://www.facebook.com/Happymagenta
---
Last edited by Happybyte; 01-21-2015 at

02:53 PM

. Reason: main post content update