StarBouncer 2.0 release w/ promo codes
---
My game StarBouncer 2.0 is now available in the App Store.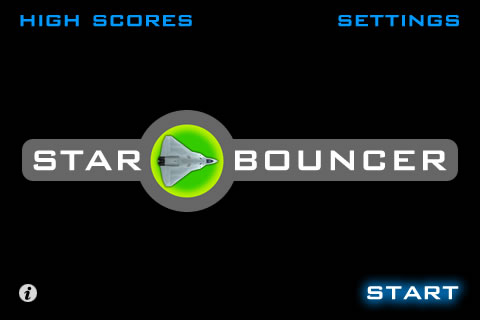 StarBouncer is a fun and frantic 2D space shooter game with a cool, unique feature: your ship bounces off the edge of the screen and center scoreboard. Your mission is to fly around this space arena and destroy drone ships and mines. The game is inspired by an arcade / home computer classic from the 80s, which some of you older folks might recognize
.
Version 2.0 brings these improvements:
- Revised scale increases gameplay area
- Improved graphics and special effects
- New option for touch screen controls to rotate ship
- New music tracks
- Improved tilt controls
- New button layout options
- Online high scores
- New background music tracks.
Many of these improvements were based on customer feedback, notably, the addition of touch controls. These include both displacement and velocity based pad controls to rotate the ship:
This should address a major gripe about the game from those folks that don't like tilt control (the tilt option is still available, and is my personal preference).
The game has unlimited levels, but difficulty ramps up pretty quickly, making it harder and harder to advance.
Here are some more screenshots: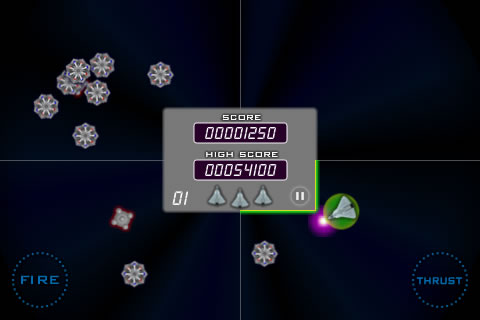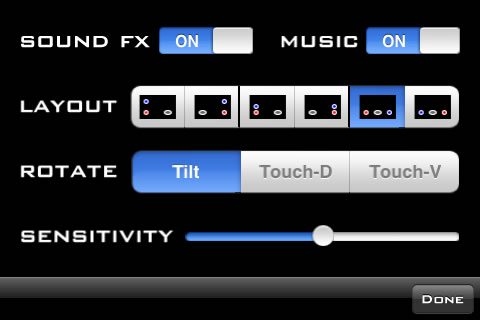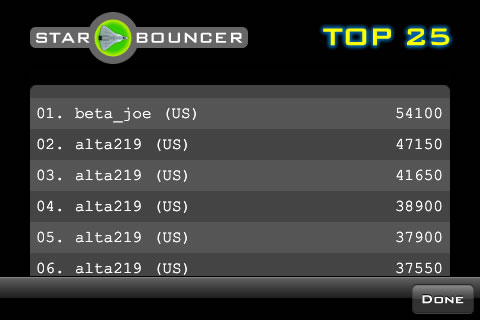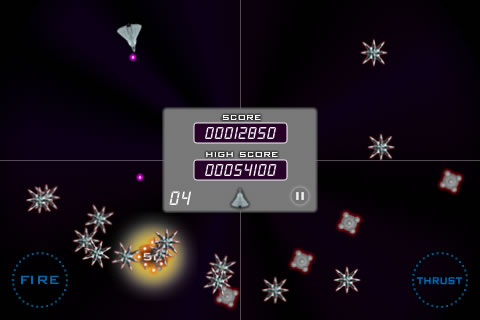 And here's a demo video showing levels 1-10 (opens in a new window):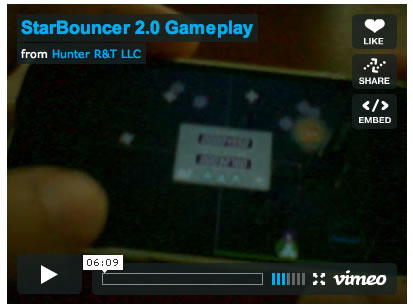 Here's the new 2.0 website:
http://hunter.pairsite.com/starbouncer
and here's the iTunes listing:
http://itunes.apple.com/WebObjects/MZStore.woa/wa/viewSoftware?id=300776131&mt=8
Finally (drumroll please) here are ten promo codes. Be sure to post and make a note of which promo code you have grabbed. I will be back with more codes when these get used up, to give another set of folks a chance at nabbing a code at a different time.
1. 74MNNPAT4E6T
2. 99WAKXK3RFLJ
3. NRMYAXRNJJJP
4. ETYPFAT3EXHN
5. PWLMFJTM6WAX
6. AN9LFWRKNPH3
7. 69NWAP96TEYM
8. Y9FA9XEHRELT
9. FHA3H34ARTFN
10. RY33X3A6AXYR
Please give your feedback and comments on the game once you've had a chance to try it out (reviews on iTunes are welcome/appreciated as well). The folks who like this game *really* like it, as do I. It's a lot of fun and takes some skill. I hope to see someone top my high scores pretty soon (the current #1 of 54100 is the score I got while filming the video).
thanks,
Craig