Glorkian Warrior, By Pixeljam & James Kochalka (shmup, platformer)
---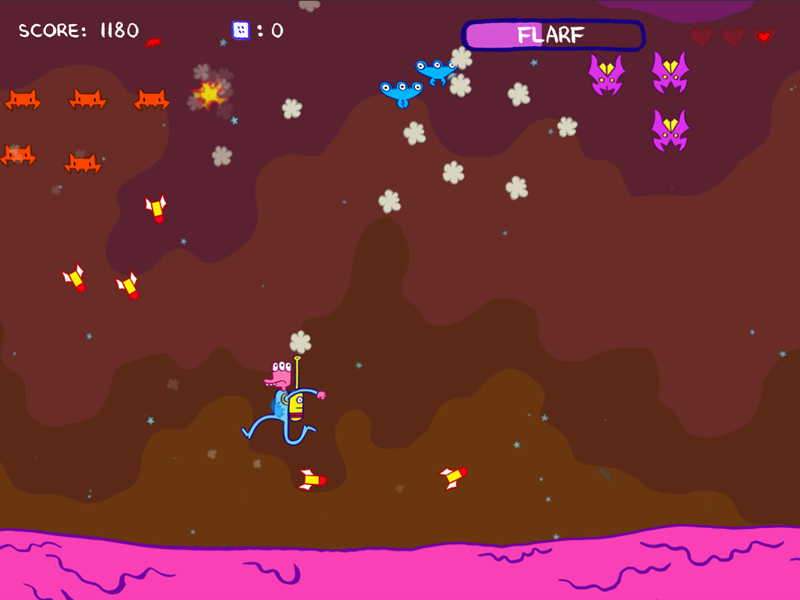 Hello forum folks, Miles here from Pixeljam. This is the first time I've posted in the TA Forums so I should probably intro myself and our studio as well. We've been making retro-styled games for Browser, Mac & PC since 2006, but we are finally making the plunge into iOS & Android. Our best known game is probably
Dino Run
(which we are slowly getting over to iOS), but this post is about something we've got coming up very soon -
Glorkian Warrior: The Trials of Glork
.
The game is a hybrid of Galaga-esque shmup (aerial invaders doing procedurally generated flight paths & formations) and Mario-style platforming. The emphasis in this game in particular is blasting invaders and watching Glork interact with his Super Backpack and various citizens of the asteroid he lives on. We are working on a much larger Glorkian Game that's more about platforming and exploration, but that will be a long ways off.
We're really excited to be working with James Kochalka on this, who's probably best known for his "American Elf" comics, and most recently the SuperF*ckers series on Youtube. This is an all-ages game though.... aimed at kids and adults alike.
It's an "endless shooter" basically, but more of a satire on the genre. No IAP or gimmicks, just keeping it simple & fun. That's how we like to do things
Looking forward to hearing people's thoughts, and we'll be uploading more screens, videos and info as we have it!
-Miles
http://www.pixeljam.com