Nex - Squad Based FPS looks Kickass!!
---
Quote:
StarByte has let us know that their squad-based first person shooter Nex has finally been submitted to Apple for approve. We first reported on the game back in February.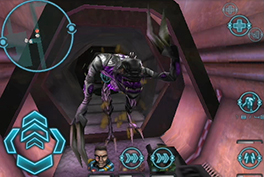 You are in charge of a small human commando squad battling terrifying hoards of violent aliens in dark, gloomy, confined spaceship wastelands.
You'll need razor-sharp reactions during solo missions and a combination of aggression and strategic planning when ordering your commando squad if you are to have any hope of meeting your varied mission objectives.
The game certainly sounds like an ambitious effort, and StarByte has released this new gameplay video in anticipation of the release:
Youtube link
|
Pop Up
The control pad on the screen seems to adopt a Wolf 3D style controller as default, though an accelerometer-based controls also appears to be available. Squad-based control of the game is detailed here:
Q. There are two (or three) commandos in my mission – which one am I?
A. You control one directly in the play screen. The others will carry out any orders they have. However, you can switch to any other commando by tapping the mini-commando icon on the play screen – you would then take direct control of him. If you switched into a commando currently under a move (or follow) order, you'll see the intended path highlighted on the scanner. The other commandos will continue to carry out their orders. They are also aware of dangers and will turn to fire at any approaching aliens.
More details on the game as well as tips and FAQs can be found on StarByte's site. We're looking forward to trying this one out.
This looks so awesome!
---
Check out
Smoof7 Productions
!
---
Last edited by Vinny554; 07-28-2009 at

12:54 PM

.