Sea Assault-3D Arcade Shooter
---
Price-$1.99/£1.19
http://itunes.apple.com/WebObjects/MZStore.woa/wa/viewSoftware?id=323660769&mt=8
Reliabit presents Sea Assault !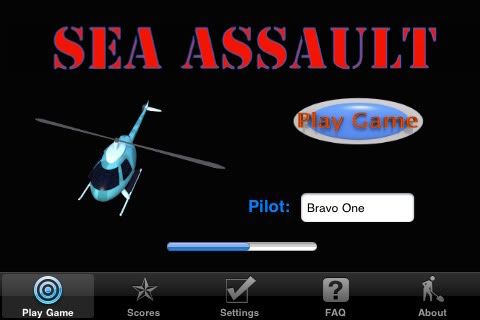 You are a helicopter fighter pilot. Roam the enemy infested islands and destroy all targets. Blow up buildings, fuel tanks, enemy turrets and missile silos. Avoid intense enemy fire.
Supply your helicopter on the home base with missiles and fuel. Be careful not to run out of fuel far from the home base. Make sure you have earned enough points to pay for your crafts maintenance.
Sea Assault is a 3D arcade game available for the iPhone 3G. The game has been designed for iPhone OS 3.0 or greater.
Turn the helicopter with screen touches.
To fire missiles or the cannon, press the fire button on the center left of the screen. Change the selected weapon by tapping the weapon icon in the upper left portion of the screen.
Navigate the island chain using the built in radar that detects islands, hostile entities, and your home island.
Do you have the combat skills to endure?