Level 22, Gary's misadventures Trailer
---
Hi everyone!
The Noego studio is about to release his first game "Level 22, Gary's misadventures" on early october.
Here is the trailer :
http://www.youtube.com/watch?v=X0K9i0KilBs
In this stealth game you play as Gary. Gary is an average office employee of a big company. After a drunken night out on the town, he oversleeps and gets late for work. Your mission is to lead Gary through the 22 floors of the building without being seen by any other employees. You must run, hide and think fast to remain invisible to your colleagues' eyes.
LEVEL 22, Gary's Misadventures is the first stealth game taking place in the office world universe. Developers' idea was to offer something fresh to mobile and tablet pc players. They wanted to turn the common working place into a playground where players could experiment things that can be made in their everyday working life. In this game you need to use everything in your reach to overcome any potential threat to your career: hide in closets or behind newspapers, kick vending machines, hit your colleagues with books, boobytrap photocopiers, poison donuts…
Check out the trailer now and get ready for the official release announcement early October.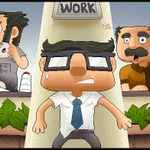 For more information you can visit our website :
http://noego-games.com
Follow us on facebook :
http://www.facebook.com/NOEGO.GAMES
Or Twitter :
https://twitter.com/NoegoGames