Contest: FIVE Promo Codes for Match 3D Flick Puzzle
---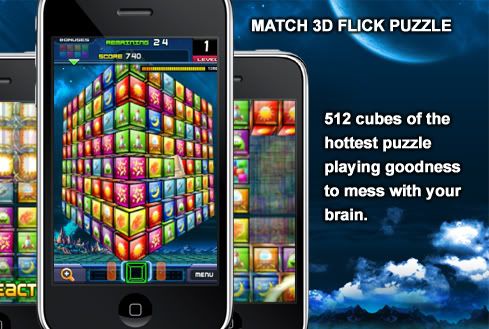 We're giving away FIVE promo codes for the full version of Match 3D Flick Puzzle ($3.99) for the five most interesting, best written App Store reviews (in our opinion) of the FREE version:
Link:
http://itunes.apple.com/WebObjects/MZStore.woa/wa/viewSoftware?id=324009097&mt=8
Just email the text of your Review, and your App Store reviewer name to:
match3d@playscreen.com
(yes, we will check the App store).
Contest ends on Friday at Midnight (Pacific Time). Decision of the judges are final.
And hey, don't copy other people's reviews. That isn't cool.
Thanks.
---
A late game is only late until it ships. A bad game is bad until the end of time.

- Shigeru Miyamoto