Pon- Virtual Pet Side-Scrolling RPG!
---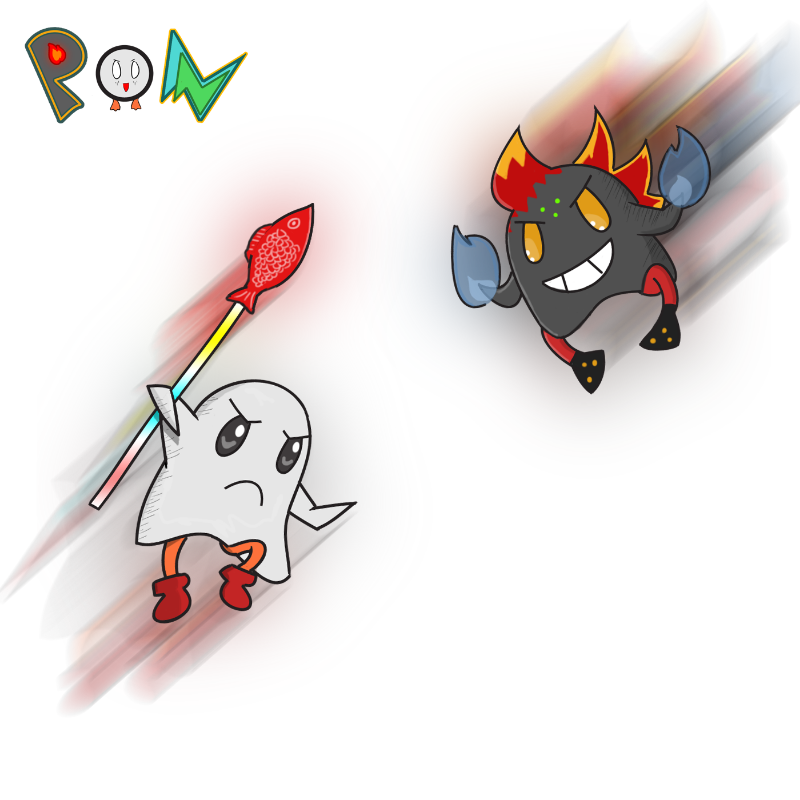 1/29/2014
The Demo Version of Pon is now on the App Store!
Instead of going through the hassle of Testflight Privileges you can now download it directly to your phone! Whaddaya waiting for?!
Check it out here:
https://itunes.apple.com/us/app/pon!-a-virtual-pet-rpg/id797945684?mt=8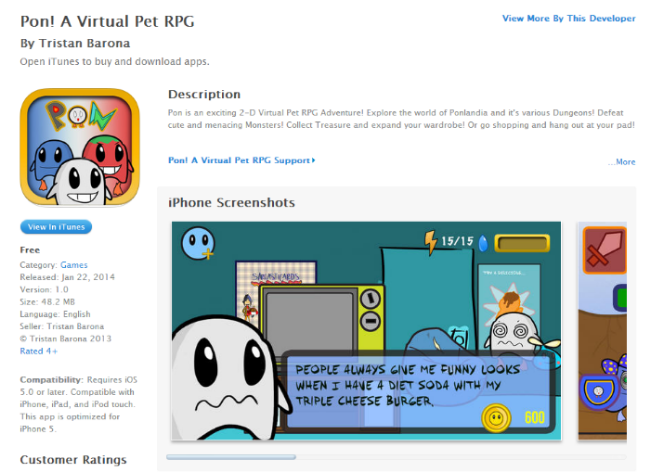 We also have a new trailer for the release!
http://youtu.be/1J_j5rZ1vVI
We encourage you guys to send feedback and leave reviews! There might even be something in it for ya!
----------------------------
This is Pon!
It is (hopefully) the world's firs
t Virtual Pet / Side-Scrolling RPG
for the iOS! It features a unique battle system, housing customization, collectibles and dungeons with grind-able loot and a casual plot!
skip the essay and watch gameplay HERE:
Grassy Fields Play Through
http://www.youtube.com/watch?v=5hmcXEnJHBA
General Gameplay
http://www.youtube.com/watch?v=bp3o4KRhhYQ
The game is
currently available for testing
and in its demo phase
if you have a generation 4 or 5 iOS device
, you can shoot me an email at
ponponofficial@gmail.com
to be a part of the test!! The game should be live on iTunes in a few weeks!
COMPLETE DUNGEONS ---> EARN GEAR ---> LEVEL UP ---> CUSTOMIZE YOUR PAD ---> UNLOCK NEW DUNGEONS
Pon begins with you conveniently receiving an egg that takes just long enough to hatch for you to complete a speedy tutorial!

You'll have just enough time to hangout in your house to really two things:
-You don't have any stuff
-You're completely broke
So now it's time to go on your first adventure! After equipping your puny shield and dull sword it's
time to explore Grassy Fields
, where apparently, once peaceful monsters have been attacking Pons! In order to bring peace back to the area you'll have to get your feet wet in
Pon's battle system
and confront a mysterious adversary!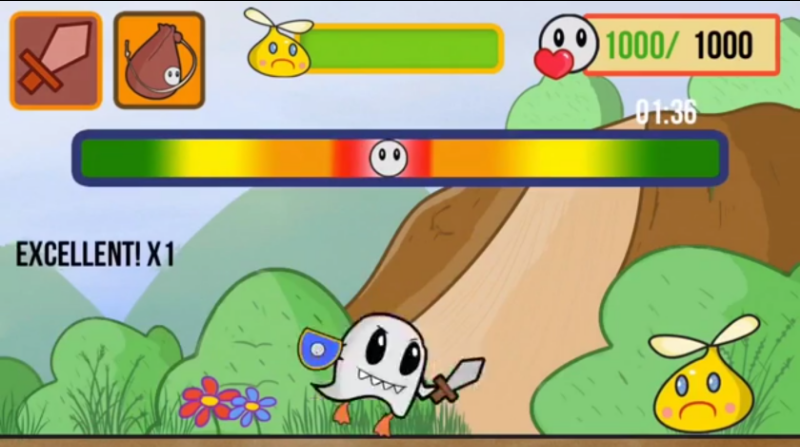 [Pon's battle system is fairly simple but leaves a lot of room for variables.

Your attack damage is decided by how close you can land that meter in the center. If you do manage to hit the center, you get to attack again. Landing in the center a second time unleashes a devastating spin attack!

After your attack, the enemy will prepare to attack and you'll have a chance to defend by selecting one of 3 random shields, each varying in defensive capabilities!]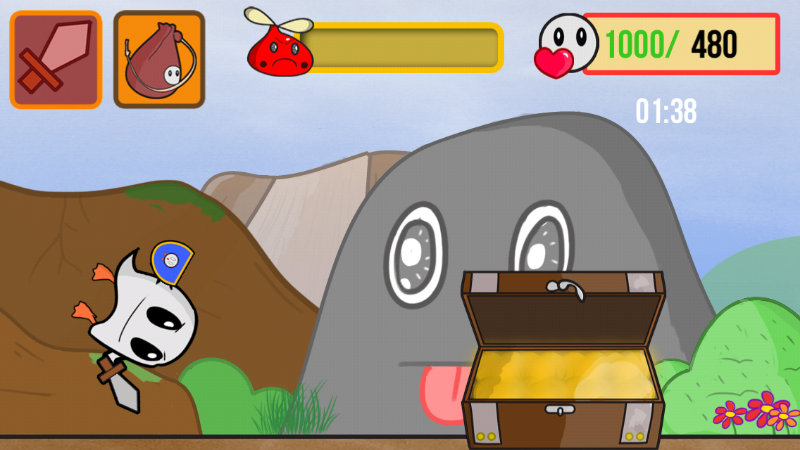 Once that's done,
collect your new gear and gold coins and head back home
!
Looking cooler already!
But your house is still a dump, so now it's time do head downtown and spiff your place up!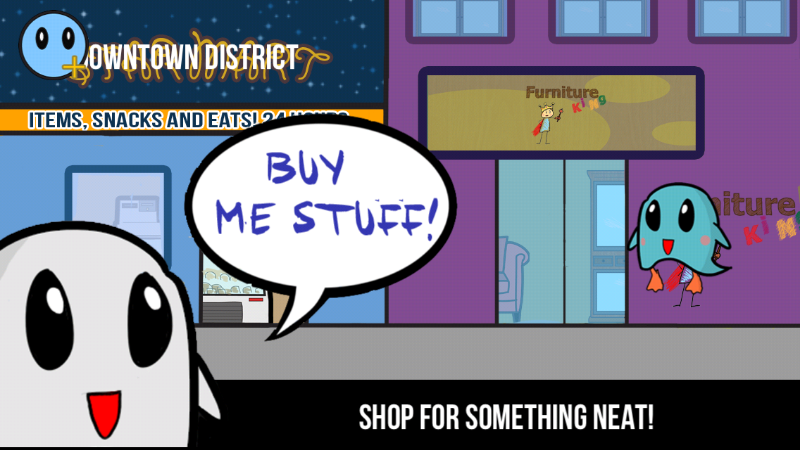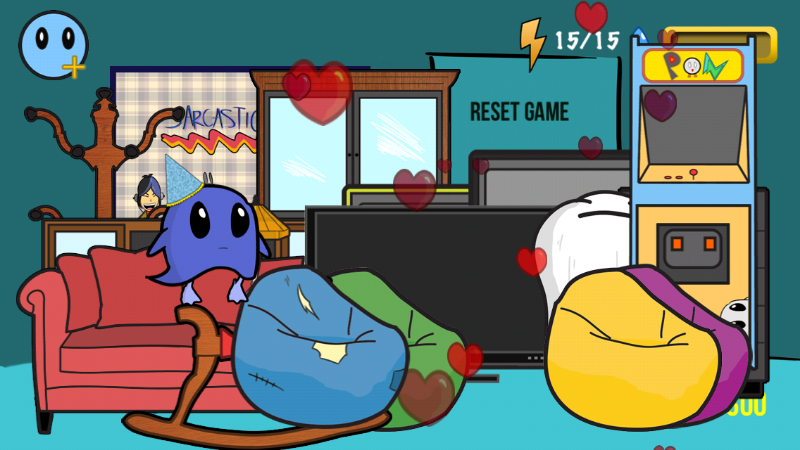 Just don't overdo it.
Ultimately I'd like to add lots more levels to the game and add fun features like PVP and a Lounge where you flick other people's Pons and chat and show off gear of course!
More to come.
If users need more of a challenge I want to incorporate "Hard Mode" dungeons that will have special requirements for defeating enemies such as "green zone only attacks", but the player might have to figure that out through trial and error!
I'd appreciate any feedback on thoughts on the game as well as people who'd like to test it !
the game is also on twitter,tumblr and facebook!
https://twitter.com/PonWasTaken
http://ponponofficial.tumblr.com/
https://www.facebook.com/ponponofficial
---
Last edited by PonPonOfficial; 01-29-2014 at

07:44 PM

.