Cook, Serve, Delicious - restaurant sim
---
I've chatted with the dev on NeoGAF, and the PC version has gotten some very positive impressions. Just saw that he posted about an IOS version releasing this week.
---
http://www.vertigogaming.net/
Youtube link
|
Pop Up
Quote:
Cook, Serve, Delicious is a hardcore restaurant sim, one of the few in its genre that gives the players total control over where they want to take their restaurant.

The game centers on an old, worn down restaurant in the SherriSoda Tower, which was once the heart of the building but closed down as business (and tenants) dropped to an all time low. But with the local economy rising back up and occupancy reaching its maximum, SherriSoda Tower has decided to bring back the old Cook, Serve, Delicious restaurant, and has given you complete control to bring it back to its old five star status of world class dining.

And if that weren't enough, you'll also have the opportunity to be cast in the Iron Cook television show, throw parties for offices in SherriSoda Tower, read virtual mail in your SherriSoda Tower Email account which ranges from game tips to crazy spam (nearly 500 emails in all), from customers providing feedback to your restaurant to opportunities such as being able to fund projects via "ClicknStart" and other big surprises!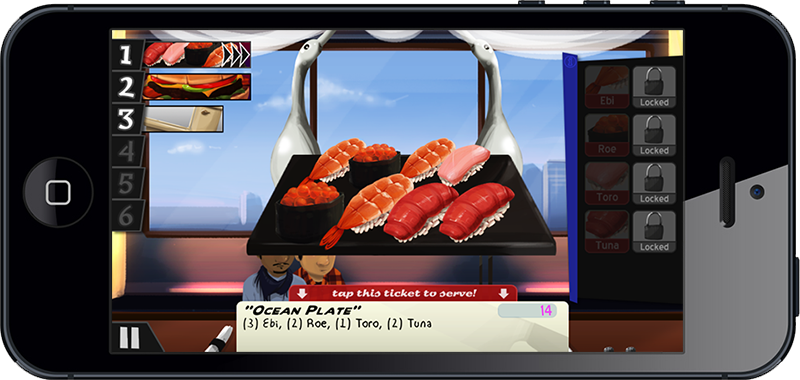 Quote:
Hey y'all, just a quick heads up that Cook, Serve, Delicious! is coming to iPhone 5 and iPod Touch 5 this Thursday for $2.99! That price is good for the next few weeks, and then it'll go back to $3.99.

It'll be a free app download, and you'll be able to play for free for more than an hour's worth of gameplay...
Edit: seems like this version is not a straight port of the PC version, with the PC version understandably having more content and features.
Also:
Quote:
There was no way of supporting 4s without dramatically cutting out features to save memory, so I just opted to support 5s only.
---
Last edited by Bronxsta; 01-06-2014 at

12:58 PM

.