Genesis + Lite
---
$2.99 73.6 MB
http://itunes.apple.com/WebObjects/MZStore.woa/wa/viewSoftware?id=324763628&mt=8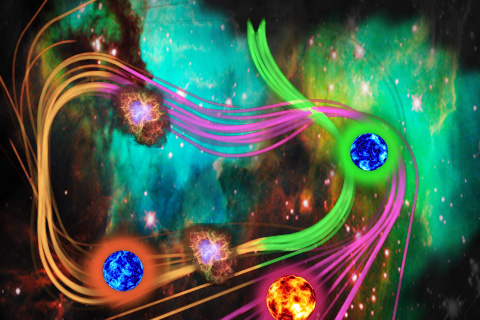 Quote:
From the creators of Spawn Illuminati comes a new game that lets you control the spawn of light to spark new life in a universe full of challenges.

As a mixture between puzzle, art and musical instrument this game lets you control different force fields that bend the stream of light to your will.

The goal of the game is to bend the light stream toward all suns, so they get ignited, illuminate their surrounding and spawn life.

With each ignited sun a particular track of a song will appear, eventually composing the whole song when all suns are ignited.

If you get stuck, use a hint and simply double tap a force and it will move into the right place (or grow to the right size). Hints become available every 30 sec.

What our users say:

"The beauty of spawn the musicality of bloom and the complexness and challenge of enigmo"

"This game is genuinely fun and original while at the same time helps to relax"

"This game is just awesome. Whether you buy it for the game itself, or just the eye-candy, you won't be disappointed"

"Cool as heck, fluid motion and very eye catching. The app store needs more apps like this!"
---
Last edited by DaveMc99; 08-09-2009 at

11:57 AM

.