Dungeon Rally - Deck-Building Puzzle RPG
---
Dev Blog
http://slothwerks.tumblr.com/
Twitter
https://twitter.com/slothwerks
Try Dungeon Rally in your browser (pre-release version)
http://gamejolt.com/games/rpg/dungeon-rally/21400/
I've finally gotten my current project, Dungeon Rally, to the point where I'm ready to share it with you guys. I'm calling it a 'deck-building puzzle rpg'. It's a puzzle RPG in the vein of 10000000, Dungeon Rally, and Puzzle Quest, but with a 'deck building' twist.
At the end of each turn in Dungeon Rally, you're given the opportunity to buy new tiles (heroes/weapons/items) to your 'deck'. As you complete chains and tiles are removed from the board, instead of populating them with completely random tiles, they're populated with tiles from your deck. This adds a new layer of strategy: customizing your deck and finding powerful synergies between different types of tiles is a key part of the strategy.
If you've played popular deck-building games like Ascension (also on iOS), Thunderstone, or Dominion, you'll know what I'm talking about.
I've been pretty active posting new info and news over at Game Jolt; in fact, I just uploaded the new 0.4 build today (Feb 8, 2014). The game is playable in your browser today if you want to give it a try.
http://gamejolt.com/games/rpg/dungeon-rally/21400/
You can also follow the development in this thread, on Twitter, or my dev blog (links above).
I'd love to answer any questions you have, and if you do try the version over @ Game Jolt, I'd love to get your thoughts. The first episode is pretty much 'done', and future dev work will mostly be on additional episodes. I'd love to tweak/refine the first episode based on any feedback you guys have.
Hope you enjoy!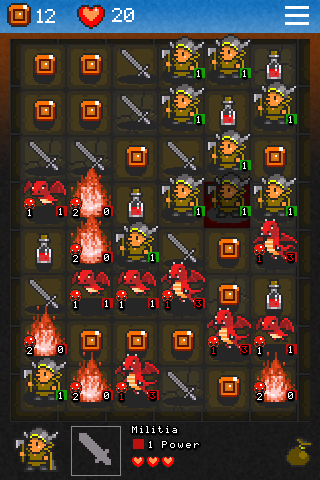 ---
Last edited by slothwerks; 02-08-2014 at

04:32 PM

.