The DTZ Experiment (How important is an App's NAME and ICON?)
---
Hello everyone. Some of you on this forum know about our arcade puzzle game "DownToZero", which has been available for over a month now in the App Store.
We've been disappointed with the sales for the game, so we've decided to do a little experiment.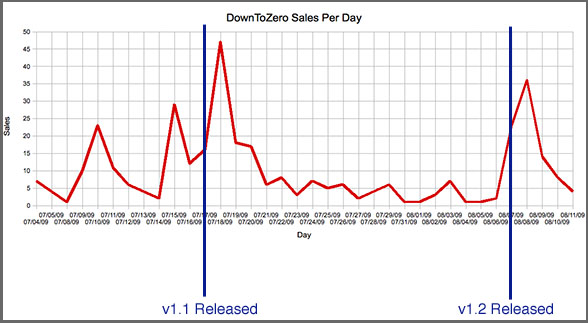 Looking at the sales graph for the game you can see that we get a spike in sales every time we release an update to the game. This is because we get a short window where the game shows up on the "Release Date" lists when browsing the App Store on the iPhone / iPod Touch. looking at this, it's our conclusion that most people buying stuff on the App Store are using their device to browse the App Store, and finding apps and games that are in the lists there (Featured, Top Paid / Free / Release Date, Top 25).
Since reviews have been very positive for DownToZero, we also think that most people are not clicking through to see the App Description page for DTZ, even if they see it in the list.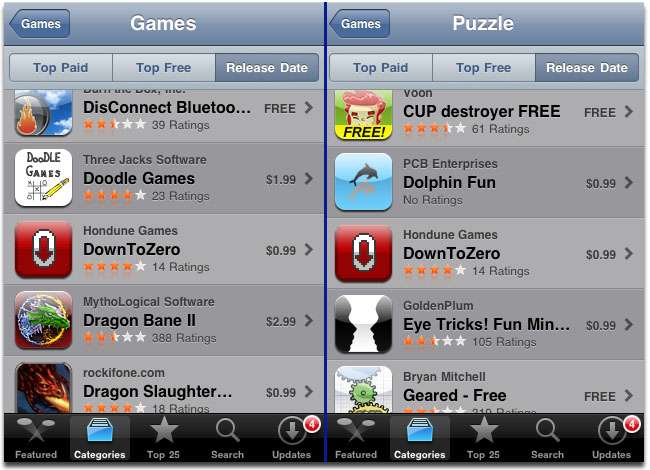 Which leads us to the conclusion that the
Name and Icon for our game are not grabbing people's attention
-- they're skipping right over it.
The Experiment
We're going to change only 2 things: the game Name, and Icon, and submit a new update to the App Store, and compare the spike to the previous ones, to see just how important an app Name and Icon are to getting sales.
We'd like everyone's help in choosing a new name for the game that is more likely to grab people's attention, and also communicate something about the game at the same time, enticing them to click onto the description page to learn more.
Here are the ideas that we have so far, let us know your favorites, or if you have even better ideas!
Zero Sum
Flash Drop
Drop Down
Touch Down
Smarter than Numbers
Flash Math
Drop Factor
Countdown
Count it Down
Hikizan
Hayabiki Drop
Drop Reflex