Bugs&Spiders (Xonix / Qix Remake)
---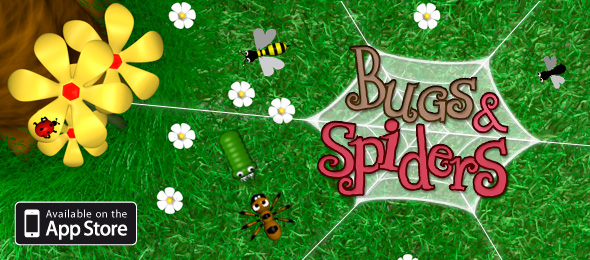 Available on the iTunes App Store:
http://itunes.apple.com/WebObjects/MZStore.woa/wa/viewSoftware?id=323770985&mt=8&s=143519
Welcome to the World of Bugs and Spiders. You are a little hero (incarnated as a spider) in this dangerous world and you have to be quick to stay alive. Build your web and catch your prey but be careful, danger is just around the tree. You will have to play tactical to survive.
Bugs and Spiders is a remake of a classical gaming principle used in games called
XONIX
and
QIX
. The gaming area has to be divided up and thereby reduced in size. This gets more and more difficult with a growing number of enemies.
The goal of the game is to score as many points as possible by partitioning the arena and catching different bugs. The spider must avoid bugs so that they do not touch the trail left behind the spider as it travels across the arena. Some of the bugs can be eaten when they are caught in a web.
The game becomes more challenging with each new level. Various levels have different insects with varying features and behaviors, which makes this game unpredictable and fun to play.
In addition there is
Online-Highscore
where players all over the world can compete with each other.
We are already planning multiple updates with additional gaming content.
Additional ideas and feedback is always highly appreciated!
LANGUAGES: English, German, Latvian and Estonian.
Website:
Bugs&Spiders
Screenshots: