On The Lam: Fugitive Simulator - 2014
---
Not the dev, saw this while browsing IndieDB
---
http://www.indiedb.com/games/on-the-...tive-simulator
http://www.skaldicgames.com/OnTheLam.html
Multi-platform. Game will be available for PC, Mac, Linux, iPhone, iPad, and Android
Youtube link
|
Pop Up
Quote:
Experience what it is like to actually be a fugitive on the run. On The Lam was designed to be the most realistic fugitive simulator game ever made. Many hours of researching actual fugitive cases were spent to bring the most authentic and realistic experience to the player. The game is text based with RPG and survival influences. Specific gameplay influences are Plague Inc, DayZ, and Oregon Trail.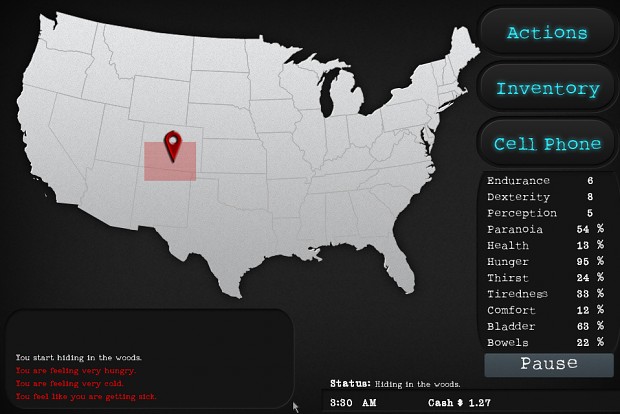 Quote:
The goal of the game is to flee the country, which can be done in multiple ways. You can try to get the number of someone that can smuggle you out of the country, which costs money or you can also risk crossing over the Canada or Mexico border. You have a higher chance of crossing the Mexico border in the desert, but only if you have enough water and endurance to handle the desert heat.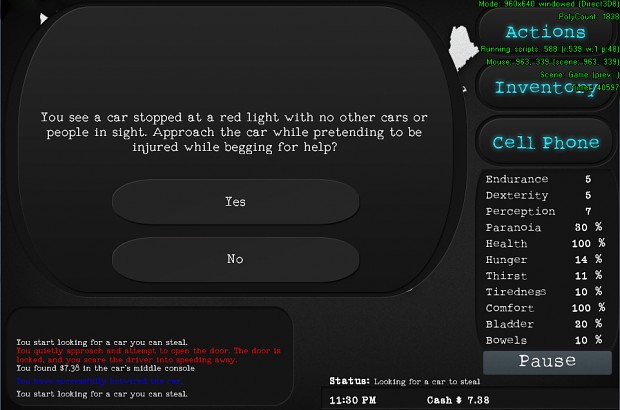 Features
Quote:
- Three types of fugitive scenarios: Murder, prison escape, and terrorist attack. Each made to simulate what it would really like to be a fugitive after committing those crimes.
- Every decision you make has an impact on how successful you are.
- Break into houses for shelter, items, or to rob house owners.
- Player can get injured, suffer sickness, and depression. Items such as medicine and drugs can effect these.
- Get a hair cut and change your clothes to prevent pedestrians and cops from recognizing you.
- Events take place based on time. For example, if you steal a car at 3:00 AM, the crime will take longer to get reported than if you did it during the day time.
- Player can start with the Street Smarts perk, which allows the player to think more logically and gain additional skills for certain situations, such as hot-wiring a car.
- Player is affected by weather and temperature. Weather is determined by the player location in the US(desert,mountains,etc), what the player is wearing, and if it is night or day.
- If cops are nearby, player can hide out in the woods, buildings, and more. Each hiding place has certain advantages and disadvantages.
- Areas on the map light up to let you know when police know your last known location.
- Gather items to help you escape. Items include clothes, tools, food, drink, weapons, and drugs.
- Post-game police report is generated detailing your known actions, crimes, states traveled to, etc. Report is written on how an actual police report.
- Realistic mode – In this mode you will not be notified on about the cops movements, when a pedestrian reports you, etc. You will truly not know if you are safe and where the cops will be.
- And finally, yes, the player has bladder and bowels stats. Keep an eye on them or else you you will be messing up your pants, which effects your comfort stat.