Eras of Alchemy (by Sheado.net)
---
Sheado.net
We are two developers and an artist striving to make the world a happier place - one app at a time. =D I am one of the developers here to talk about Eras of Alchemy.
Once upon a time, it's just another day at the park and...oh wait, is that an ASTEROID in the back??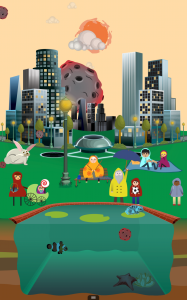 Sorry old man in the raincoat - that measly umbrella will offer you no protection! Oh well, it's a good day for an apocalypse.
HERA (Holographic Earth Revival Alchemist) awakens one day to find Earth destroyed with little life remaining. The planet depends on you. Using the combined powers of science and HERA's alchemy pods, can YOU help revive Earth?
Trailer:
Discover the combinations to create creatures and advance through eras of time. Resurrect the animals using the unique underground fossil layer features.
It plays like the Alchemy series (Little Alchemy, Doodle God, etc) but instead of creating still/unmoving tiles, we wanted the players to create a "living" and "breathing" "terrarium", if you will.
Here's an old gameplay video (some visual things have changed since then):

Eras of Alchemy
We are currently porting to iPhone and iPad. Back to the grinding stone for me!