Skullduggery! by ClutchPlay Games
---
"Skullduggery!" Launch Trailer
Introducing "Skullduggery!"
Hi Everyone, we're
ClutchPlay Games
, makers of
Little Chomp
. We're incredibly excited to announce our new game
"Skullduggery!"
which is coming out on iOS on
October 9th, 2014
and on
Android in early 2015.
You know the old saying, "you can't take it with you?" Well, I've got news for you, my friends. They were wrong! "Deadbeats" have been taking their riches with them to the afterlife for centuries and it's the job of the InFERnal Revenue Service — and its army of skulls — to collect!
* Slingshot your Semi-Organic Autonomous Skull by leveraging the elasticity of your own brain!
* Slow-down time and thread the needle between deadly obstacles!
* Play 'HEAD to HEAD' against your friends!
* Discover hidden caches and slip past surly guards!
* Fill out paperwork and reflect on the inherent emptiness of existence!
GDC 2014 Trailer:
In honor of Tax Day today, we've released a special tax day trailer. Because really, who
DOESN'T
love a good tax day trailer?!
Tax Day 2014 Trailer:
Gameplay Trailer
Have any thoughts or feedback? We'd love to hear from you!
Images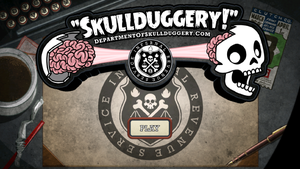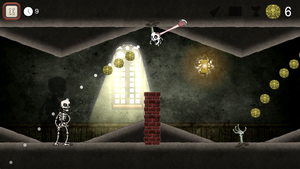 ---
Last edited by TheBigBoots; 10-02-2014 at

02:57 PM

. Reason: added gameplay video