Racing Wheel - Sci-fi Car Racing Game
---
Racing Wheels is an exciting game for the iOS and Android devices.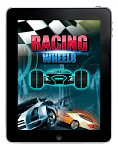 The games will feature 2 modes of game play (endless and time trial). The game is set in a beautiful sci-fi setting and will feature over 5 cars for you to choose from.
The game will have 4 beautiful surroundings to enhance the action. Whilst you will be able to boast with your friends about your best distance in the time trial mode, you will be able earn coins and utilize exciting boosts in the endless mode. Avoid traffic as you try to get as far as possible from the crowd.
Enjoy the thrills behind the wheel.
Support us on our ndiedb page:
http://www.indiedb.com/games/racing-wheels/