My control ideas for an iKH
---
Recently, I've been wondering why Enix doesn't want to port or make a Kingdom Hearts game for the iPhone. I thought maybe it was because they didn't see much money in it. Maybe they are just too busy making them for the DS and PSP. Maybe they just don't think the iPod Touch/iPhone is legit enough.
But then it dawned on me that they weren't thinking of an "iKH" because of the controls hassle. Although this might not be the case, I spent some time wondering how a game of this magnitude in controls would work. Here's my idea.
Please read my entire post before making assumptions and comments.
Another one with horizontal controls flip.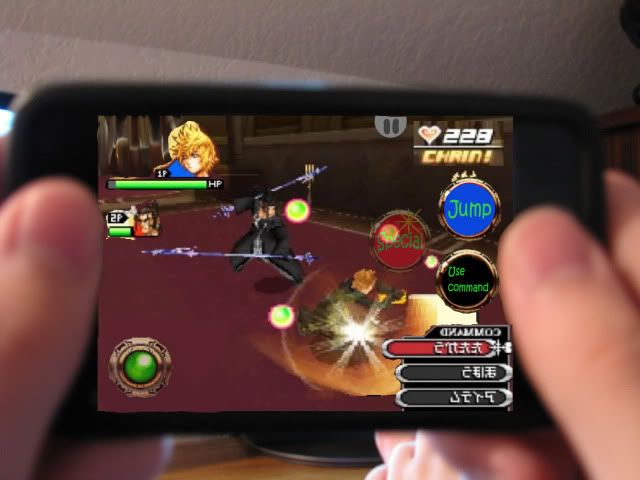 Yeah, it's pretty much a picture of my hands holding an iPod Touch with a copy/paste picture of Kingdom Hearts 358/2 Days done in paint shop with buttons taken from Hero of Sparta, but bear with me here, this is only a concept.
As you can see, I put the walk/run analog stick to the right, so the command menu would be more accessible. I also did this to avoid getting in the way of the game's natural interface, but maybe Enix could switch the HP bars with the walking analogue so it would be at the bottom of the screen, if they ever did an "iKH".
As you can see, to the left is jump, the button to use the selected command from the commands menu, like attack, magic, or items, and the special button for special abilities.
Now, don't jump to conclusions and say the special button is in the way of the game play. In Kingdom Hearts on the consoles, the triangle appears on the screen when you're allowed to do a special on your enemy. That's what I would like this button to do. Like the combo button in Hero of Sparta: to only appear when you can use it and remain invisible when you can't use it. Thus, why I put that Star on it.
I'm sorry for the ugly looking pause button at the top of the screen. As I said before, it's just a concept.
Another issue is the commands menu. It would seem like a bad idea, since the command options are a tad small and hard to touch, but I have an idea. instead of tapping the desired option with your thumb, you would hold your thumb down on the list and rub your thumb up and down to scroll. And there could be a little icon (representing the item or command) popping out to the side of the red bar your thumb is currently on to let you know what you're selecting.
And last of all, the camera angle can be moved by swiping on the screen, but in this case, I hope that Enix would make that very sensitive and fast, so that one rub across the screen would make a 360* rotation of the environment.
So that's my idea for the control scheme. Please send feedback or suggestions/criticism. If I knew how to contact Square, I'd use this as part of a pitch on why they should make an "iKH", whether it would be original on the iPhone or just a port.
---
Recent purchases: Pac man CE, Tony Hawk Pro Skater 2, Mecho Wars, and Chaos Rings.
Upcoming Games I plan to get: Splinter Cell, GoF2
---
Last edited by CaseyLay; 08-26-2009 at

01:52 PM

.