Kuru Kuru Kururin inspired Why Does It Spin? (Incodra Engine)
---
Hi everyone at Touch Arcade,
do you remember the old Game Boy Advance title Kuru Kuru Kururin? I always liked to play that game very much and I was just fascinated about how much fun it is to play that game, even if it relies on a very simple concept: a rotating bar needs to be controlled through a labyrinth.
I played a lot of other games in my childhood and therefore it shouldn't be very surprising that I always dreamt about becoming a game developer. Unfortunately, it was not really easy to publish games when I finished school in 2003. Steam was just launched and the Play Store as well as the App Store didn't even exist. So I thought that my dream would never become true and I started my studies in computer sciences. The long and the short of it, I also did my PhD at the university with focus on procedural content creation and finally founded a company (Incodra) with one of my former colleagues (Darko Pavic).
Over 10 years have passed since I played Kuru Kuru Kururin, but I never forgot how much fun it was. Darko and me decided to take the basic concept of the rotating bar, enhanced it with many innovative features (like doors & switches, conveyor belts, lasers, and windy areas) and developed a full-value game for the current app market. We have developed our own flexible engine that focusses on large scale 3D worlds with 2D gameplay.
We have put emphasis on a natural and intuitive gameplay. Nowadays, smartphones support tilting controls which is beneficial for our game, because this is for sure the most realistic and precise control mechanism for labyrinth games with moving objects. Due to our background in computer graphics, we have also focussed on the eye-catchy game graphics. Although the gameplay is 2D, the world around features a lot of beautiful 3D details which makes it very interesting for the player to discover the environment.
Our primary goal was to publish a full-value game, which is typically found on consoles. Hence, we have created a lot of content. We as developers already need several hours to complete the story mode of the game. And afterwards, the game is not even over... you unlock time attack and can challenge our ghosts!
Our development has just been completed a few days ago and we have submitted our game to Apple to be reviewed. Hopefully, the review process goes fine and we can hold the release date (which we defined as July 31st).

We are very excited for the launch of our first game and we are very exited to get some feedback from YOU! Beside some general feedback (ask us anything) we would especially like to know:


Did you play the original title?

What is your general impression of Why Does It Spin? (This is actually the title of our game :-))

Although our game comes with a bunch of features and content, we will keep on developing, so do you have any cool ideas for future updates? Like gameplay features you always wanted to see in this kind of game?

If you want to see the game in action, you can visit our homepage (
http://www.WhyDoesItSpin.com
) where we have posted several images and videos.
Alright, so if you are interested in our game stay tuned and wait for its launch on July 31st,
Lars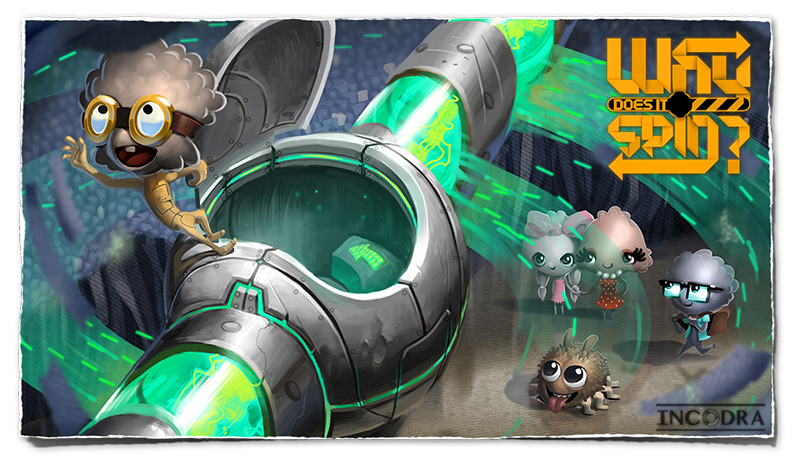 ---
Last edited by LarsKrecklau; 08-18-2014 at

01:18 AM

.