French pronunciation guide for iPhone: promo codes
---
I have just released a brand new, completely re-designed version of my
"Utter French!" pronunciation guide for iPhone
. The app features 1,200 studio recordings of a native French speaker and is designed to include "something for everybody". If you're a relative beginner at French, then you can use the app to listen to the words, then record and compare your own version, following the on-screen pronunciation hints.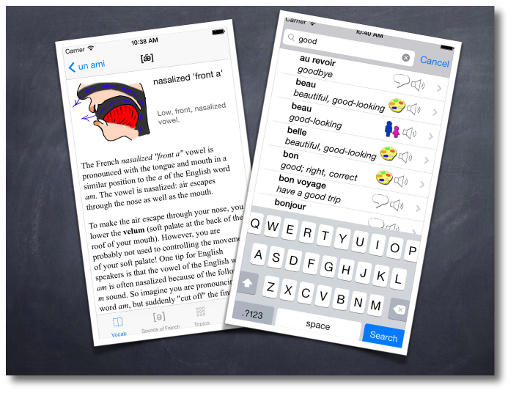 iTunes link:
http://itunes.apple.com/us/app/utter-french!/id538445336?mt=8
More advanced learners will benefit from the more detailed pronunciation descriptions that the app also includes.
Grab a free copy of the app with one of the codes below-- or share with any French students/teachers that you think might be interested!
3ALY63NMWX69
4H7LHLYXEW44
LXPAF4FX4KMR
R94PPF3MMYKP
LEN9M36PFEXA
JH9NRFEXAR3M
PF9KTFRHHYMT
3XFXYXHJTA9T
EK9HMPWJ96X6
ERWEWYJL7LAT
XAF3JAMP7J4A
AEANLWM97RYW
K6YMJ4M43YN6
PPKAY94963NK
4LT7AWRFJWF9
EN6F4FYTPMA6
HK7TE9TP74AA
XWXTPYNPFK74
If codes run out, please post a message as I may have more available!