MonsterKill from Origin8 - featuring the cutest carnage ever. Submitted!
---
Hi all,
Do you like
monsters
? Do you like
killing monsters
? If so, I think we might have a game for you...
MonsterKill
from
Origin8
(Sentinel, Car Mania) has been submitted to Apple and is now in approval. Here are the highlights of the app description:
Quote:
They're cute, they're cheeky – you just want to squeeze the life out of the little monsters!

Hordes of tiny terrors have broken free of their chains and are running amok! Use cunning touchscreen gestures to summon a variety of spells as you battle against these classic mini-monsters. Don't let them tear down your defenses, or you'll have horror havoc on your hands!

* Slice and dice them - cut them in two with the cut spell!
* Summon lightning - give them a shocking experience!
* Turn up the heat by casting fireballs - watch 'em burn!
* Need to slow them? Sculpt an ice block and stun them!

•Simple gesture system to summon spells
•Stunning characters, animation, backgrounds & fx
•Multiple game modes: Normal, Endless and Onslaught
•With full online high scores and unlockable achievements using OpenFeint.
Here's a closer look at MonsterKill's super-satisfying gestural spellcasting! Simply draw a symbol as depicted in image A, and the chosen spell zaps the unliving heck out of the critters, as seen in image B: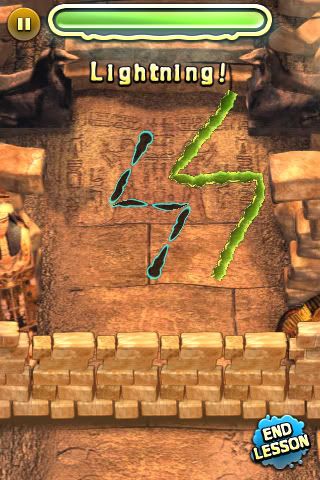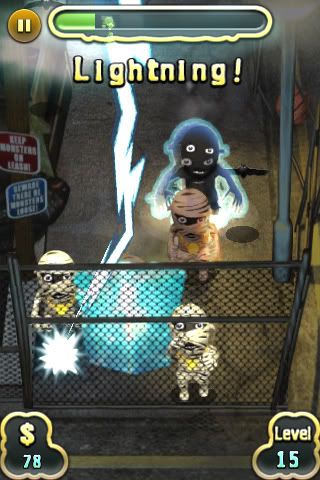 As you progress you'll earn upgrade tokens - spend them at the shop to customise your powers: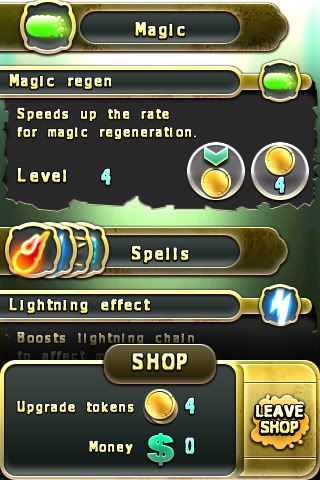 We expect MonsterKill to launch at the $0.99/£0.59/€0.79 price point. Enjoy!
---
Last edited by Repair Drone; 09-03-2009 at

12:23 PM

. Reason: Added video