Lion Pig - Arcade-Style Platform Game
---
Lion Pig is a retro arcade-style platform / speed run game with pixel graphics. From the bright and sunny Grasslands to the moss-covered skyscrapers of Techno City, you will run, climb, swim, and bounce your way through 7 different worlds, each with their own challenges. Climb walls, scale ceilings and use your lion strength to maneuver your way through each level to collect all of the Lion Pig coins. Complete levels fast enough and you will unlock bonus levels which offer some very unique gameplay, some of which include timed movement, anti gravity and color switching mechanics. There are also hidden items to collect and if you are into it: the competitive aspect to earn faster times on the Leaderboards.
A few unique things about Lion Pig:
1. You play as a Lion Pig. He's cute, he's tough and he's ready for adventure
1. The game has a heavy focus on both vertical and horizontal movement
2. There are no virtual buttons. The entire game is played using only touch and swipe movements: Press Right side of screen to move right. Left to move left. Swipe right to wall jump right. Swipe left to wall jump left. Swipe down to drop from a ceiling.
3. There is no manual jumping. Jumping is sequenced similar to 3d Zelda games where it's based on the environment. This adds a unique feel to the game as players will need to think about how best to interract with their surroundings.
4. Speed Running has an important purpose in Lion Pig. You will earn a bronze, silver or gold coin for completing a level based on how fast you complete it. If you earn a gold coin in each level in a world then you will unlock the bonus level for that world. Bonus levels contain some fun and unique challenges different from the rest of the game. We call it the mysterious black and white world as every time you enter you really do not know what to expect.
Some other important info people may be interested in :
1. There is a leaderboard for every level that you can compete in on Game Center. There is also Game Center achievements.
2. iCloud enabled
3. The game will retail for $1.99 USD. No IAP
4. Release Date : October 16, 2014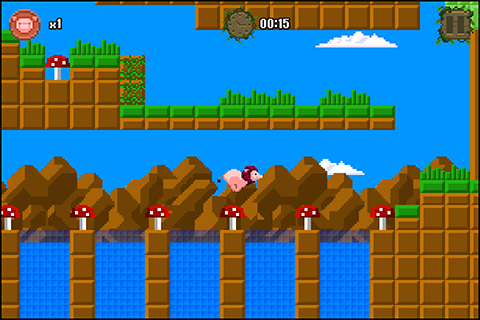 Thank you for reading this and if you have any questions feel free to ask. I hope you enjoy this game as much as I enjoyed making it.
---
Last edited by Stingman; 10-13-2014 at

05:22 PM

. Reason: Updated release info and revised description